Entrepreneur required course
80% of the customers are easy to make some fatal mistake
Since we engaged in online software development services, every day we have received a large number of customer's consultation. Among them there are entrepreneurs, company's project manager and so on. As a company with decades of years experience we have contacted with tens thousands of customers want to develop App, websites and other software. We found that 80% of the customers are easy to make some fatal mistake
◆Think develop software is very easy, so when they description their requirements very fuzzy
◆ Eager to get quotation, when they are unsure about their requirements. Then start their project with the quote.
◆Don't know exactly what they want, want to develop a shopping mall but they said would like to develop a website like Taobao.
◆Do not know the difference between website and mobile App . They want an App but they said they want a website.
◆ Think that all software has templates, and all templates are very cheap.
◆Lack of patience, never know their projects is more complex than their thought.
◆Do not know the specific function of their projects , rely on developers to guess. But also want quote at this time .
Many facts have told us that these problems will lead to the following results.
◆ When the project have done and they found it's completely different with what they want.
◆According to a professional statistical agencies for investigation in outsourcing projects, 52% of project manager was forced to leave/demotion/dismissal because of the project is out of control/failure.
◆When the project launched,its loopholes appeared one after another and repeated repairs can not solve the problem . Finally the project must be redo. (When Didi outsourcing have encountered such a situation, their outsourcing did complete mess. The outsourcing work without use and direct scrap rework )
◆ Mistook their uncertain requirements then got not reliable quote as a true price to start bidding budget,lead to capital budget not keep up and result in project runaway/bankruptcy.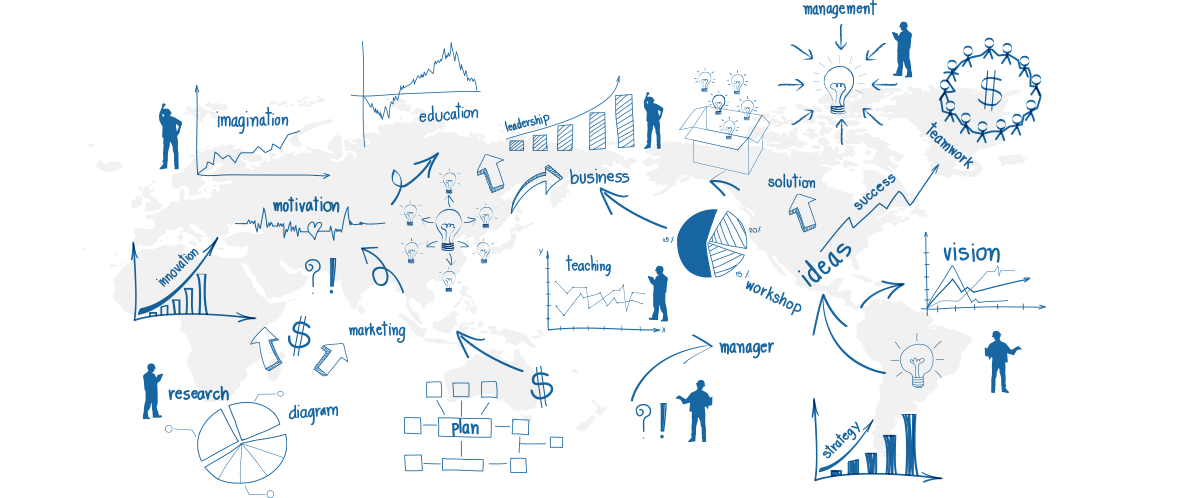 We often encounter customer first time consult with us and complaint previous software company is very terrible and their project like a piece of shit, when we carefully asked customer for more. It turned out that he completely unclear and uncertain about his requirements before he start the project. So muddleheaded started, he thought that the developers will help improve the remaining things. Actual these customers told me that the developers they have encountered have no one will help them to improve the project.
The reason is very simple, the requirements more detail the higher the cost of development will be. Generally based on the requirements of the refinement degree, the cost difference ranged from several to several dozen times. 100 thousands dollars project, if really want to perfect every details,1 million is not enough and only satisfy wage costs. This is why when customers usually ask quote, developers will offer different. It's not just expensive and cheap. The difference is caused by our understanding of requirements is completely different. If customers themselves do not know, no one will know.
Responsible companies will be careful ask your requirements details, not responsible company will quote for you directly.
How much to make a APP?
In fact, if you go to 4S shop and ask this question, how much for a car? There are 100 thousands family car also has 10 million Sports car. According to the use of vehicles (family car, S.U.V, sports car, racing, bus), configuration, engine, equipment is not the same, the price and cost are very different. In the same way, the price and cost for APP is the same. You must express clearly what kind of APP you want, for what scene it apply to, what kinds of problem the APP will solve , how to solve these problem (specific needs what kinds of functions).
I want to a simple APP, how much?
Each person have different definition with simple. How much is your simple specific, what specific you want to develop, a lot of people think that WeChat is also very simple. It is recommended that you have a clear and specific functions every time when you ask.
I want to similar to Groupon /Taobao / Jingdong / Didi / Uber... How much for Same APP?
Generally the entrepreneur asked the question has a feature, most of them not know clearly what they want. Maybe only fancy to the map, such as Uber, but when they describe similar like Uber. And Uber map function itself is only one percent of the whole software system. In the same way, some fancy to the Group buy part, they said they wants to do similar like Groupon. Some see Jingdong have online payment, they said they wants Jingdong. If you ask this question directly, I do not understand what you want is you want.Please give examples of what the specific functions. Because it is impossible to completely copy a Groupon / Taobao / Jingdong / Uber...
Why we can't do exactly like that? Some seem simple app like Groupon / Taobao / WeChat / Jingdong / Uber, the cost of software development for each of them is tens of millions, or even hundreds of millions(especially complex background). Because the complexity of details of these big companie's APP and the complexity of the background beyond your imagination. Now there are a lot of software development company said they can develop App like Jingdong, WeChat, the real function can develop only WeChat's one percent. For example, a basic login, may be divided into the email login, WeChat authorized login, Facebook authorization login, Twitter authorized login, SMS verification code login, password retrieve can also divided into email retrieve and SMS retrieve. Here list 7 kinds of circumstances, you do one or do 7 their development costs may be 7 times different or even higher.
Do you know how many people behind the technical team of Uber? Only in March their technical position to recruit is more than one hundred. The average annual salary is between 20 and 400 thousands.
How can we provide you with high quality development service?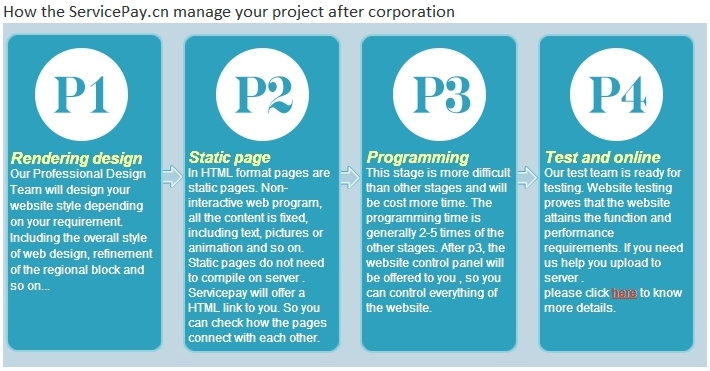 As a online software development and service company with more than 15 years professional experience, we have created the 4P development mode, will ensure that your project can get high quality development services, at the same time greatest savings cost and reduce risk.
Requirements submission
Users can submit your project through CUSTOMIZE, you can submit text, pictures, video and sketches, reference software or link to us ,in any way to describe your project, our experts team will communicate with you work through system workorder about your project.
Requirements communication
After you submit the project, our experts team will communicate with you work through system workorder about your project detail so that we can find the most suitable reference object and R&D ways.
During communication, you can through the sketch, video, reference object etc to describe your requirements, our expert team will further refine your requirements so that your ideas become can be realized.
We can also provide requirements analysis service to you,will make a prototype design for you, you can overview the whole project by prototype design and parts of the function, based on this, we will list more detailed requirements for you.
Project quotation
After list all your requirements, system will give you a specific price and development time. According to their actual needs you can choose to add and delete function so that to ensure the developed software can satisfy with your requirements and can cost will be controlled within the budget.
Project development
In the process of project development, we will be based on your requirements list and development time from system to develop your project. Project development process will be divided into P1 (Rendering design), P2 (Static page), P3 (Programming), P4 (Testing). Each Phase can be developed independently, according to your own needs you can choose to develop a phase or the whole project. Later phase development is based on previous phase final requirements, so your requirements will become more and more clear, the development will become more and more easy. At the same time, after one phase finished, we will assess and quote for your next phase based on previous phase final requirements, so that you get the quote is fair and reasonable.
Project confirm
After project development finished, the final achievements will through layers of audit and approve from R & D team, platform to ensure the final achievements meet your original requirements.
You can also confirm project comparison final achievements and your original requirements one by one.
Project after-sales
After project finished, we will upload all the source files to you for download. After this you can choose us continue your development or other companies to develop for you. After project finished, we will provide you 3 months of project maintenance for free and modify Bug for you, you can also choose our iCar plan to enjoy more preferential. After project finished, if you have a change requirements, you can also submit your request through system, system will assessment and arrange project development for you.
We have professional software development and management system, can carry out real-time tracking and monitoring of your project. We have standard work-flow called 4P to ensure your project development with high quality. We have efficient communication platform will make your communication with experts team more convenient .