How to customize project
0. In the preface
Some people say that customization is troublesome, after-sales service is not guaranteed, the outsourcing company's life cycle is short, the company can't be found when upgrading, or the company doesn't do it, and it may be really cheap to find a personal engineer, but in exchange for asking for people, looking at people's faces, not responding in time, many pain points, and so on.
Outsourcing companies make fast money. Anyway, the money has been collected. In addition, outsourcing companies have high human cost and unstable income. Outsourcing is the choice of software companies. Customers always feel that their needs are very simple because they don't understand technology, or even because their needs are vague. The gap of technology communication is formed. In addition, there are too many ways to realize technology, which leads to the phenomenon of fooling customers.
In order to solve these problems, Innovative fundamental changes have been made to establish R & D standards, process control and transparent R & D. the most important thing is to change the support mode of the outsourcing company to the engineer affiliated mode, and to supplement it with the self operation mode and joint operation mode. More importantly, in order to ensure the quality and cost saving, iSoftvalley R & D will try to adopt the secondary R & D upgrading of existing products, so as to understand the business When a team starts a project, it will be easier to understand the needs of customers and think more perfectly, while engineers will focus more on their own research and development fields, do better, be more specialized and be more able to generate income. Through the advantages of Internet resources, a win-win situation will be formed.
But even so, we found some problems. Ten outsourcing nine pits, that's the jargon. In fact, from the perspective of engineers, it's also very troublesome. Few engineers don't want to do a good project when they come, and few customers want to mess up their projects when they come. We found that 90% of the project failures are caused by the communication and process management in the early stage. Since customized development is a complex engineering project, the only way to do it is to standardize and standardize it. Only in this way can the project go smoothly, save the time cost of both parties and reduce the risk of failure. The demand of customers is often to need a stable unified window to provide services for them.
iSoftvalley is the first company to put forward the 4P + 1 mode of standardized R & D in the world, and after 8000 + project tests, it can realize the successful completion and delivery of projects without meeting each other. Moreover, some projects have realized the online iteration of Devops mode no less than 100 times, greatly saving the time cost, communication cost and spiritual consumption of customers. Through practice, we It is found that the average comprehensive cost saved for customers is more than 35%, and the project failure rate is almost 0. Many customers must meet and communicate with each other at the beginning of the project. After arriving at the beginning of the project, it was found that there was no need to meet at all. There was an American grandparent customer who came to China to play at last and no longer met to discuss the project. Because the progress of the project has been known online, and it is also very simple, convenient and easy. Each time, only change requirements or work order inquiries need to be sent out Within 24 hours, it can always reach the standard, standardized and responsible response. Maybe you think instant chat is fun. You need to build a group, communicate at any time and monitor around the clock. But let's see how much information is really useful in chat? But engineers will spend a lot of working time to reply and deal with these useless information. The most important thing is that many times, even the customers themselves do not think clearly, they will send out requirements and repeat them again and again, resulting in engineers at a loss. So we found that through the work order and demand change, this kind of non instant communication, writing in words, the customer will be very careful and calm to decide whether to change the demand, more emphasis will be placed on the key point, not to say useless words, after practice this way is very successful, saving a lot of time consumption. Customers can focus more on their own project business.
Practice has proved that from small software to software and hardware integration, from national level projects to individual entrepreneurship projects. From Europe to South America, from Africa to Oceania, we can thoroughly solve the project exchange problems caused by time difference. Realize complete centralized hosting R & D, and do a good job in the customer's online IT technology department, which is soft Valley online R & D.
Maybe you still don't believe it, so please read the following instructions carefully, which will help you know more about online R & D.
The main content of this page is:
1. Solve the user's quotation for customized projects;
2. Solve the user's understanding of the development process of soft Valley Project and relevant principles;
3. Help users understand the cooperation needed in each stage of project development and interact with the platform;
Special note: the customized projects and most products and services adopt the guaranteed transaction mode (servicepay.cn) to protect the buyer's interests. Even for the self-supporting group, it is so demanding, so please feel free to release your projects.
1. Please learn two steps as the follow before you submit your requirements to ISV platform
2. Custom steps and rules
There are FIVE stages as the follow you need to know, 90 percent of the total cost in all stages can be confirmed in P0 stage, even if modification later cause the extral fee, It will be a little, Specific steps are as follows.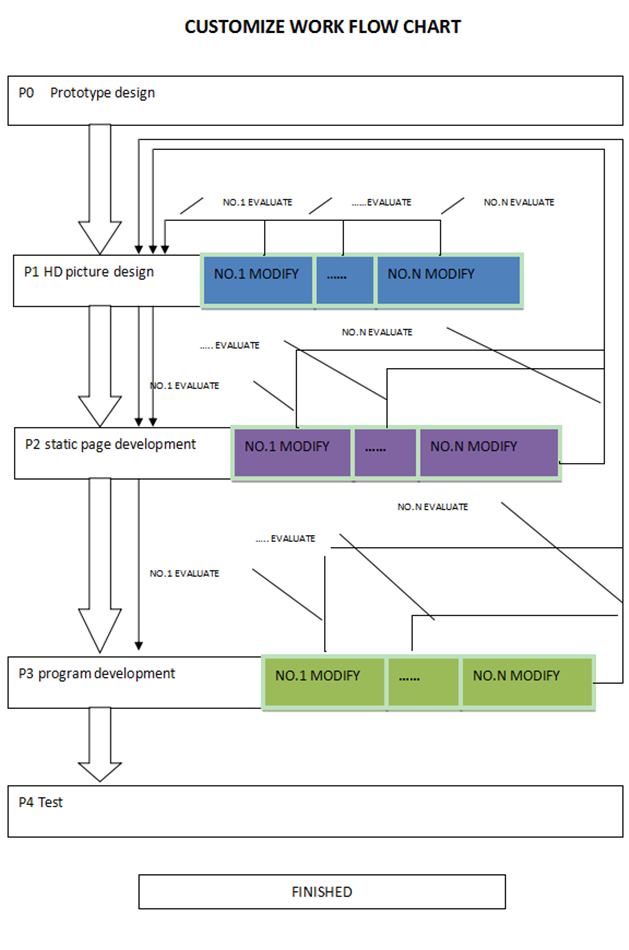 2.1 About P0 stage
P0 stage is very important, according to our experience which shows that it can be more closer the real cost of development if customers can provide more details, so there are so much discussion between us, in this stage, To know better the project specific implementation plan for you and developers, first we have to design a prototype plan for you.
Rule: Our development team can start the stage after you do payment for this. We can provide service until you are satisfie
If you want to modify the design work, please refer to "About change requirement"
Eg:
| | |
| --- | --- |
| Android | Web |
| | |
2.2 About P1 stage
Acheive HD design of prototype based on the planning scheme and prototype layout plan in P0 stage, including specific layout, color match, icon design and banner design etc.
That is to say: make a specific guide for the next P2, If you aren't satisfied with P1 design, please issue your design plan on platform.
Rule: after the P0 stage, we can start the P1 stage if you do payment. If there is any modification or function pages you need to add, you have to upload new requirements on our platform and wait for the assessment. Our tech team will reassess the cost and time and re-quote p0 and p1.
Change requirements, please refer to "About change requirement"
Eg:
2.3 About P2 stage

When you start into P2 stage, that means 99 percent of the project plan and design has finished, and it can totally enter the program stage.
That to say: show the product online that you can click with the mouse on brower
Rule: Be encoded based on the P1 stage;
      If you would like to modify at this stage, ISV development team will re-quote the total cost and time, the cost of p3 included. 

Change requirements, please refer to "About change requirement"
Eg:
View the static page
2.4 About P3 stage

The design works and the project plan will be connected in P3. This is the most important part in the project development. It costs 99 percent of the total cost and time in the development.
That to say:This is the most important part in the project development. It costs 99 percent of the total cost and time in the development; 
Notice: It is based on the cost and time of the final quotation at P2.     
If you submit modification plan again, The total cost and time of this stage can be re-quoted.

Change requirements, please refer to "About change requirement"
2.5 About P4 stage
3. How to operate
3.1 How to submit your requirements
3.1.1 register ISV then click "CUSTOMIZE" at ISV home page

3.1.2 Fill in software title,software version,project detail and your file like picture,documents and other files for reference. you can also choose advance mode to submit more detail requirements, then click "
next
" to submit your project.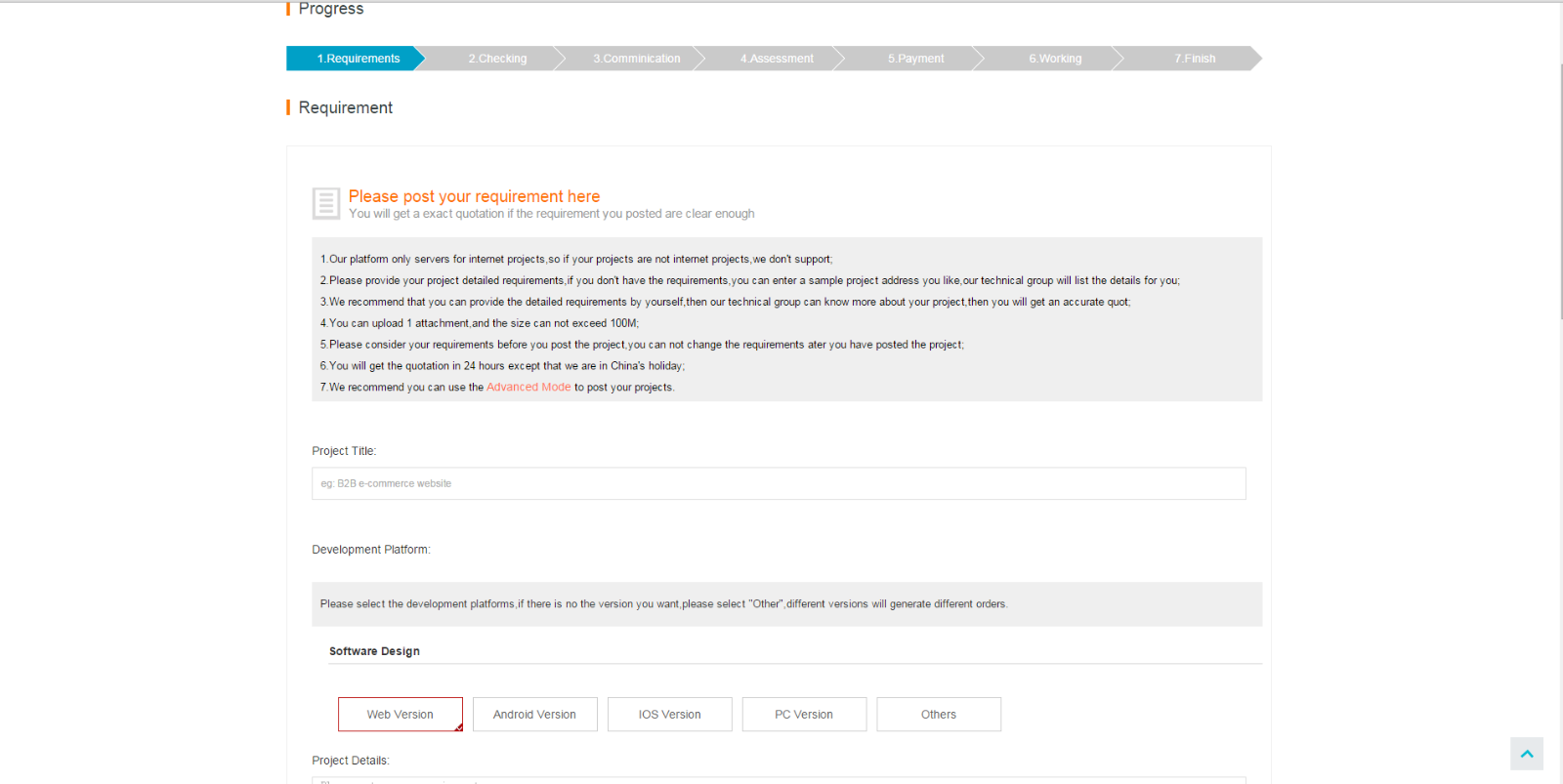 4. How to confirm your quote?
5. How to view the schedule of project?
6. How to pay?

Please refer to "How to payment"


7. How to check the acceptation?
The system supports project acceptation for each stages of P1, P2, P3 and P4, Click on "

Detail

", mark as "

√

" for completed function, Requirement the supplier then click "

confirm

", Complete project audit.
| | |
| --- | --- |
| Requirement | Confirm |
| | |
8. Project acceptance process



Engineer Team self test

>>

iSoftValley platform Audit Center test

>> 

Audit Center submitted to customer audit
8.1 Engineer Team self test
Require the engineer team to submit the completed product without any Bug included the program design framework instruction and product operation document, which is compatible with other internet browsers on different devices.
8.2 iSoftValley platform Audit Center test
View all the submited programme integrity, ducument intergrity and able to operate, simulink user operation the process, User experience ect.
8.3 customer audit
8.3.1 Customers need to complete audit within project acceptance time 8.3.2 If customers want to change other functions, Our tech team will re-quote the cost and time in the related stages.
8.4 Publish Online



We will configure the server and publish it on the third part platform if the project is accepted by the customer

.
9. How to deal with after-sales maintenance?
After the end of the project, we will upload all your source file to system, you can login the system to download the source files. We offer 3-months maintenance free period, free of charge for you to modify BUG. After the project is completed, you can put forward to a new requirement in the way of requirement change.
You can also buy our extended warranty plan and enjoy professional after-sales service and discount.
For more questions, please visit FAQ.