FAQ
1.Can i update the order once i have placed an order ?
Once you have placed an order,you cannot update the order,you can cancel the order first,then place a new order.
2.How to cancel the order?
If you have not paid the order, you can cancel the order.You can see the "Cancel" button in the "My Order" page ,just click the button,and select the cancel reason,and submit.
If you didn't see the button,that means the order can not be cancelled.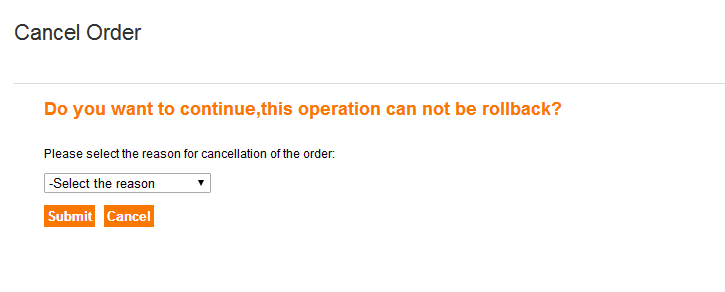 3.How to track an order?
At "My Order" page, you can enter your order number to view the order status and current progress。

4. check project current stage?
At "My Order" page, you can enter your order number to view the order status and current progress。If the project has been changed,we will send you mail,you can check this once you have received this mail,and also iSoftvalley.com will submit the workorder of the project,you can check this also in the workorder page.
At workorder page,you can check your project current status and stage,and you can reply the workorder in this page,iSoftvalley will reply you in 10 minutes.
| | | |
| --- | --- | --- |
| IPJ | View detial | |
| | | |
5. What is the process to customize a project?
In iSoftvalley.com,there are 4 stages.
P1: Rendering Design, in this stage,the designer will design all pages of this project after read the document and requirement of this project carefully,the client can check the project layout and framework.
P2: Static Pages Design,in this stage,the designer will design all static pages of this project,the client can visit all the pages by the browser,checking the details of different modules,but there is no any programming.
P3: Programming,after the client have confirmed the P1 and P2,the programmer will add the programming of all project,the client can manage all the project information at the backend.
P4: Testing,in this stage,the testing group will test all the functions of this project,after have finished the testing,the client can download the project .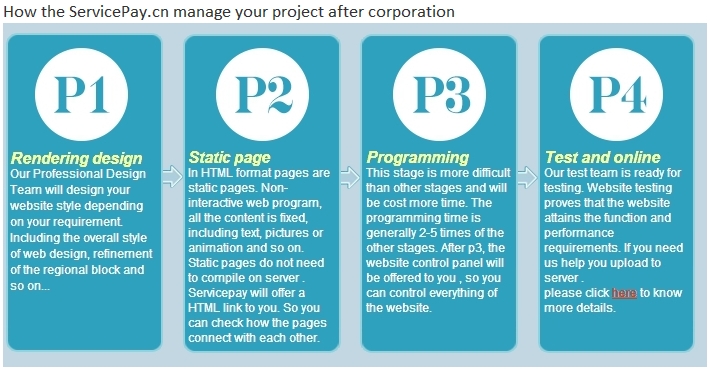 Note: For P2 and P3 are highly relevance,so we do not accept modify work in P3(programming) in halfway. if you want to modify your project,please request for changing requirements after project finished.
6.Do all the projects contains the 4 stages?
In iSoftvalley.com,not all projecs contains the 4 stages,except some online services,like Graphic Design Service,SEO Service,Marking Service and so on,this service only contains P1 stage,the client can check the details of the project in iSoftvalley.com.
7.Can i just customize 1 stage of the project if there are more than 1 stage?
In iSoftvalley.com,all the customized projects support to provide the source file,so you can do one stage of this project,after finished,you can do other stages in other companies.
8.I want to post some requirement and where i can post?
In iSoftvalley.cm,you can post your questions or requirement in 2 ways.
(1.)In ProjectManager app(One important app of ServicePay) ,you can post the workorder at your projects page,the technical groups will reply you in 10 minutes.

Choose "Submit a workder"

Enter your question or requirement and submit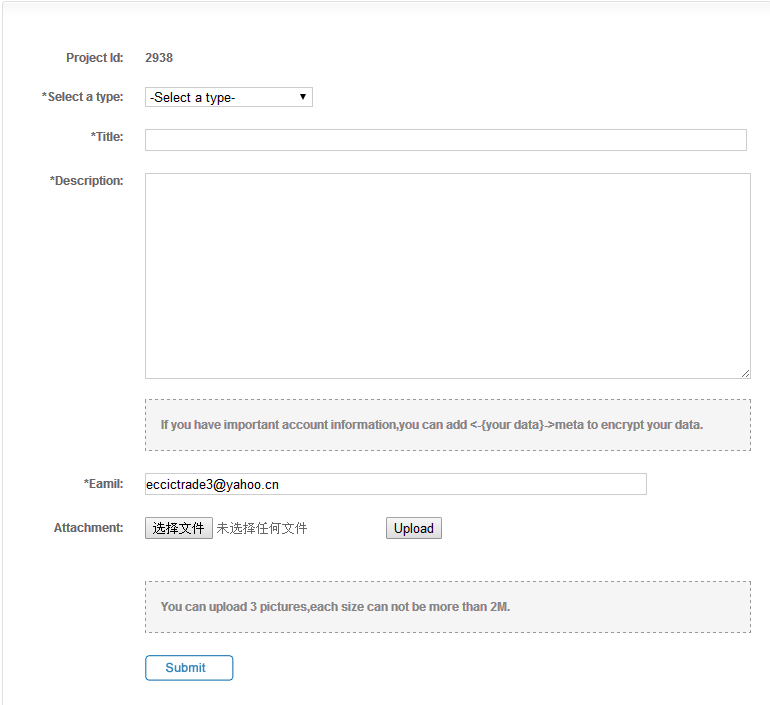 (2.)In iSoftvalley.com,you can post a new workorder at "My Workorder" page,and the technical groups will reply you in 10 minutes.

Click "Submit Workorder"

Enter your questions or requirement,and the order number,then post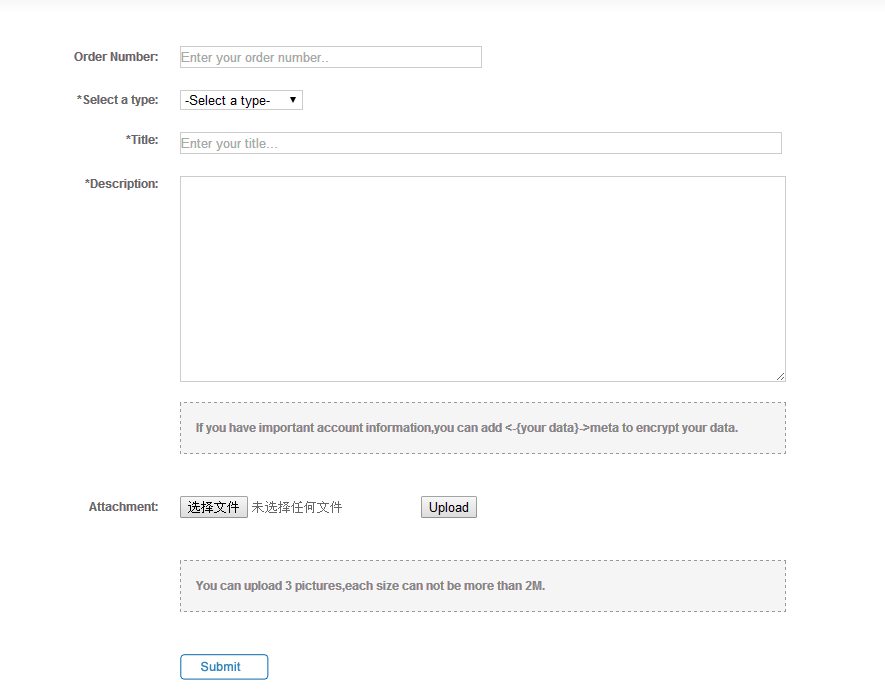 Note:workorder ony solve the techical problems,you can not add new functions of this project in the workorder,or the workorder will be refused.
9.Where can i check my project finish time?
If you want to check your project finish time,you need to go to the isoftvalley ,click "My Orders".

Click "Order detail"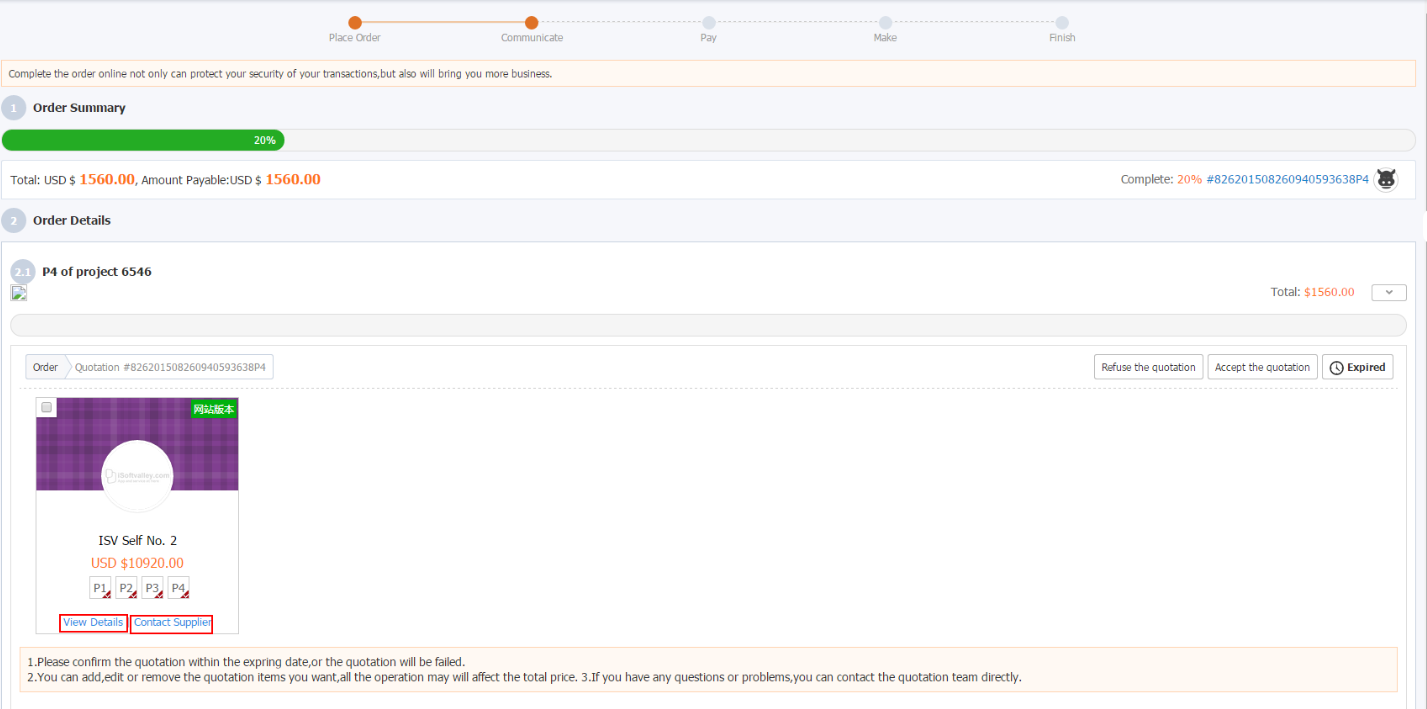 View the estimate finish time.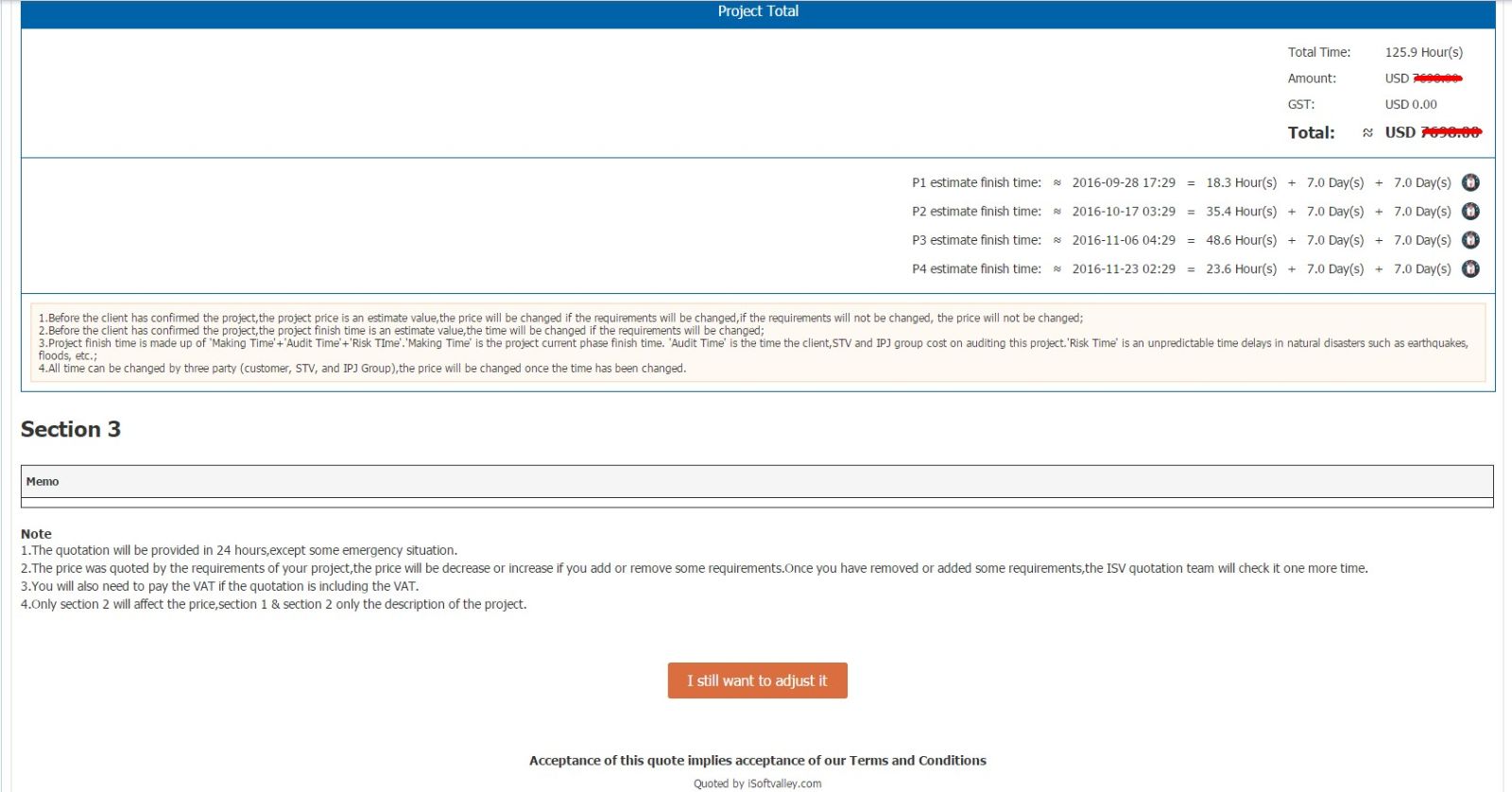 Note:There are many reasons will delay this time,the client or the techical company will post the text description to explain the reason to delay this project.
10.How to use the coupon?
You can receive the coupon during the consumption,.
(1.)At "My cart " page,you can receive the coupons.

(2.)Click "Receive" to receive the coupon,the system will use this coupon once you have placed the order automatically.
Note:Not all products and services support coupon function,some products and services do not support this,if you didn't see the coupon button,that means the product or the store do not support coupon.
11.How to submit project ?
(1) In ISV home page, click "CUSTOMIZE"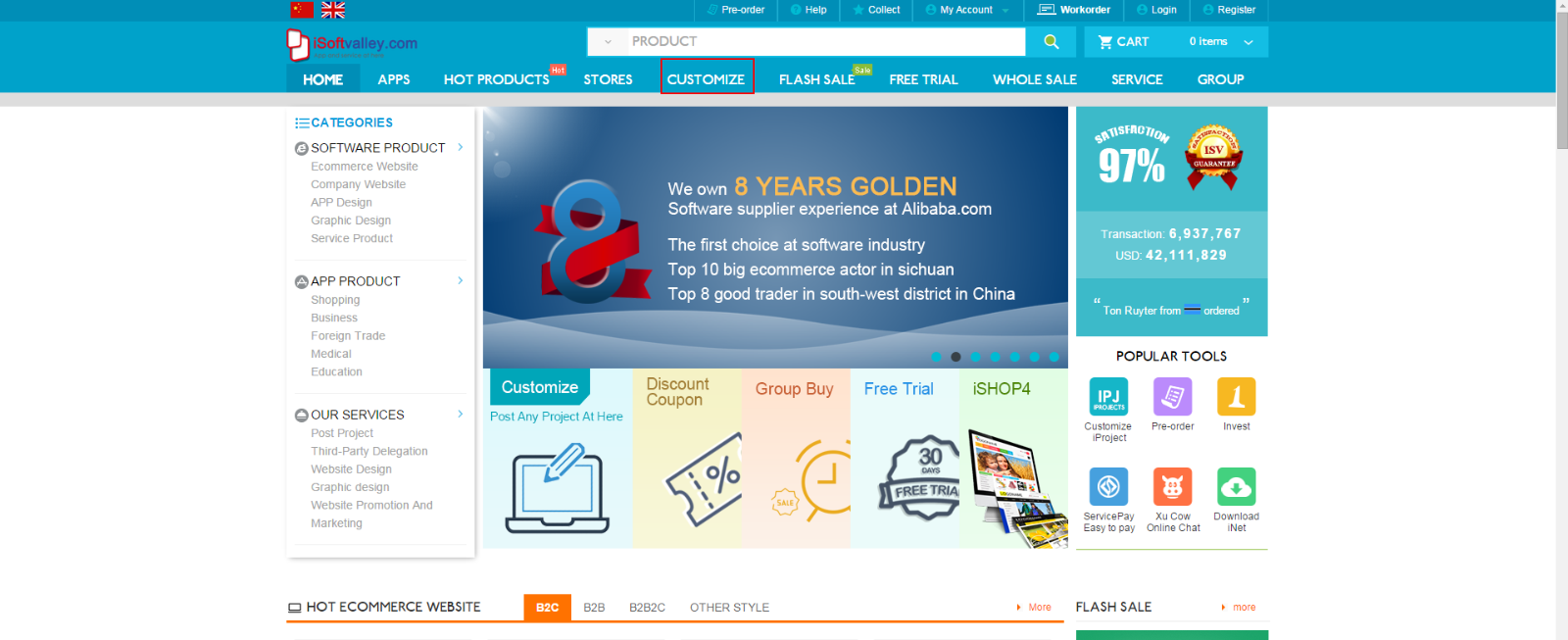 (2) Click "Customize" to submit your project directly

(3) Fill in your project requirements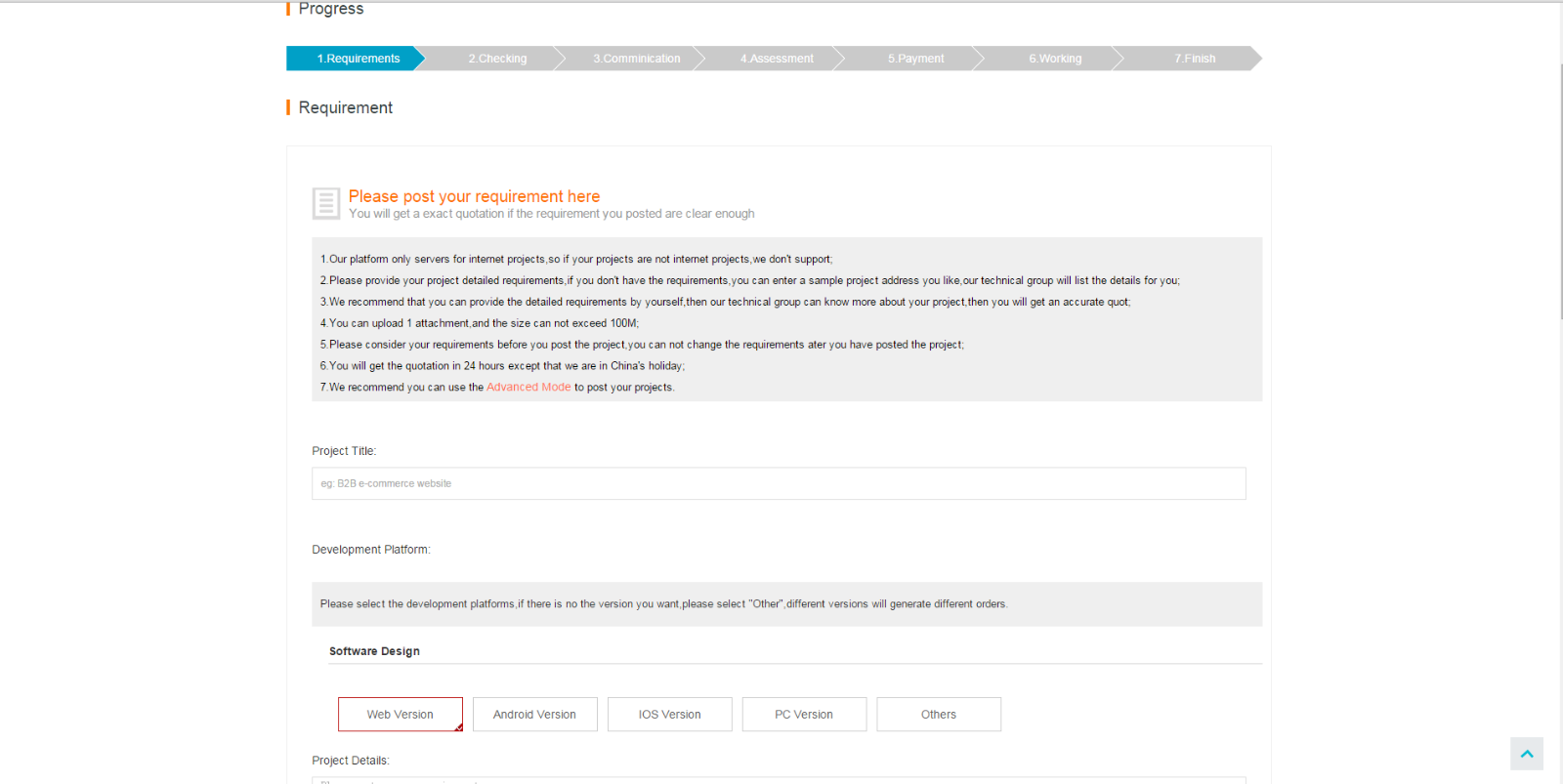 12.How to submit workorder?
(1) login to your ISV account.
(2) click on the new work order, select the type of work order.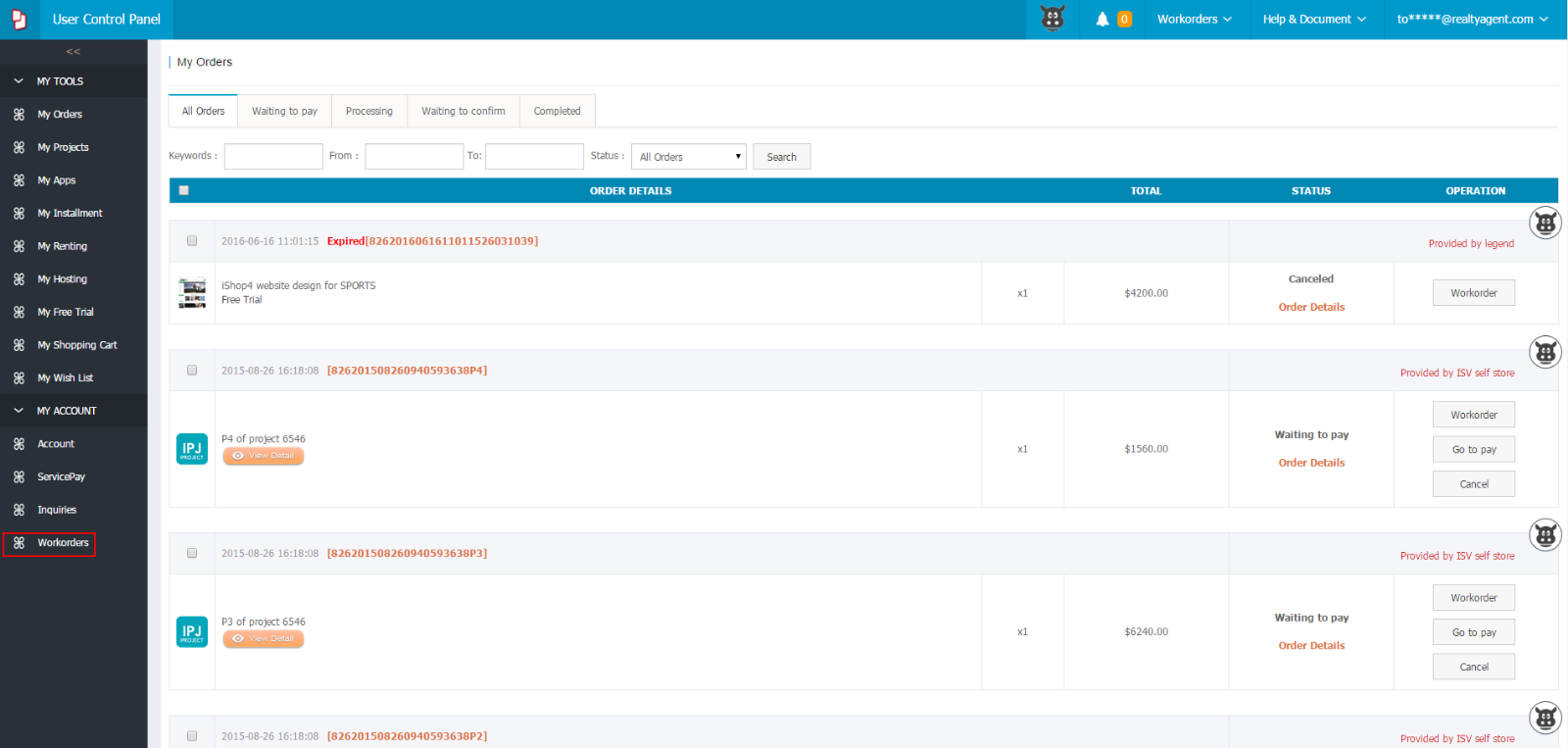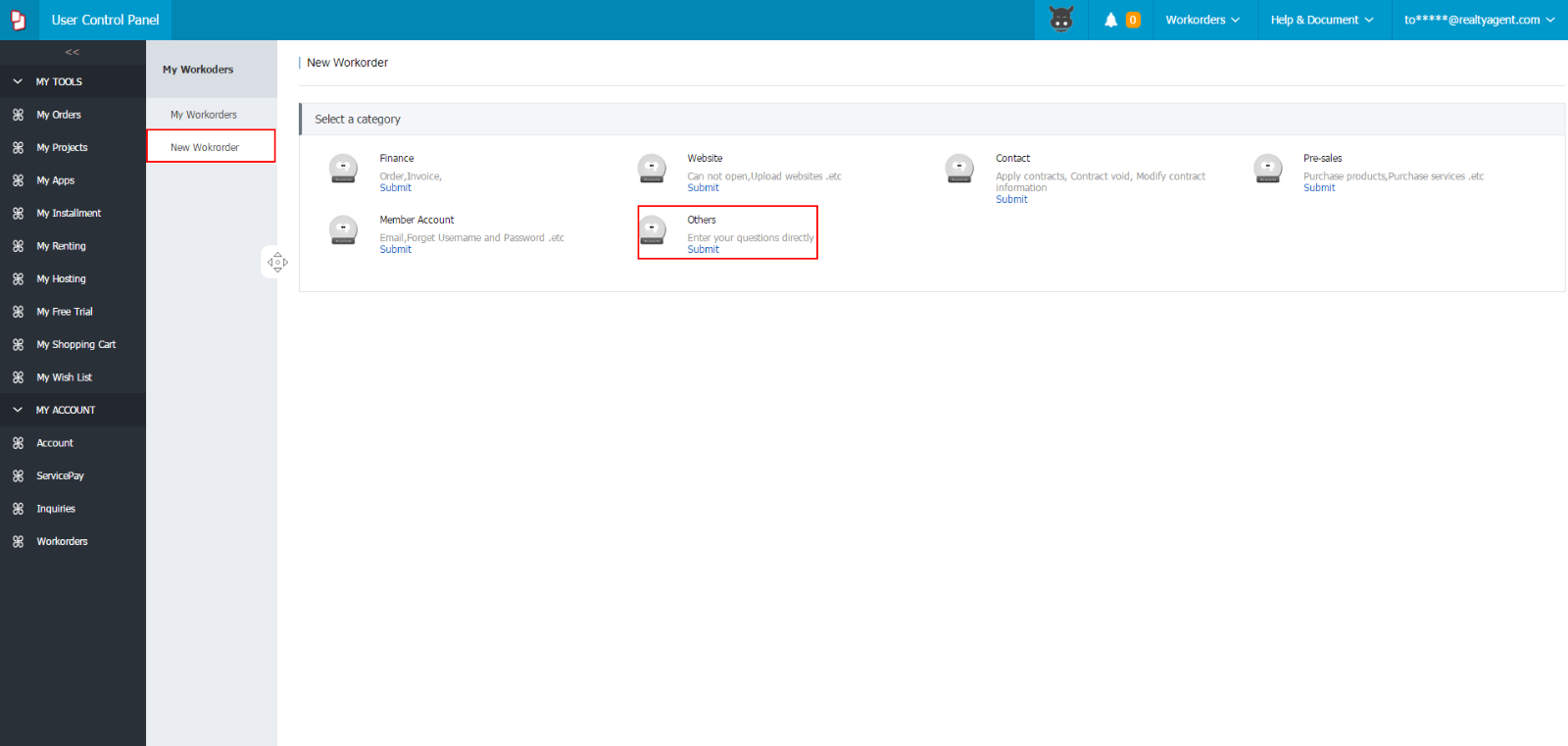 (3.) Fill in the order number, description of the problem and select a picture, submit the work order.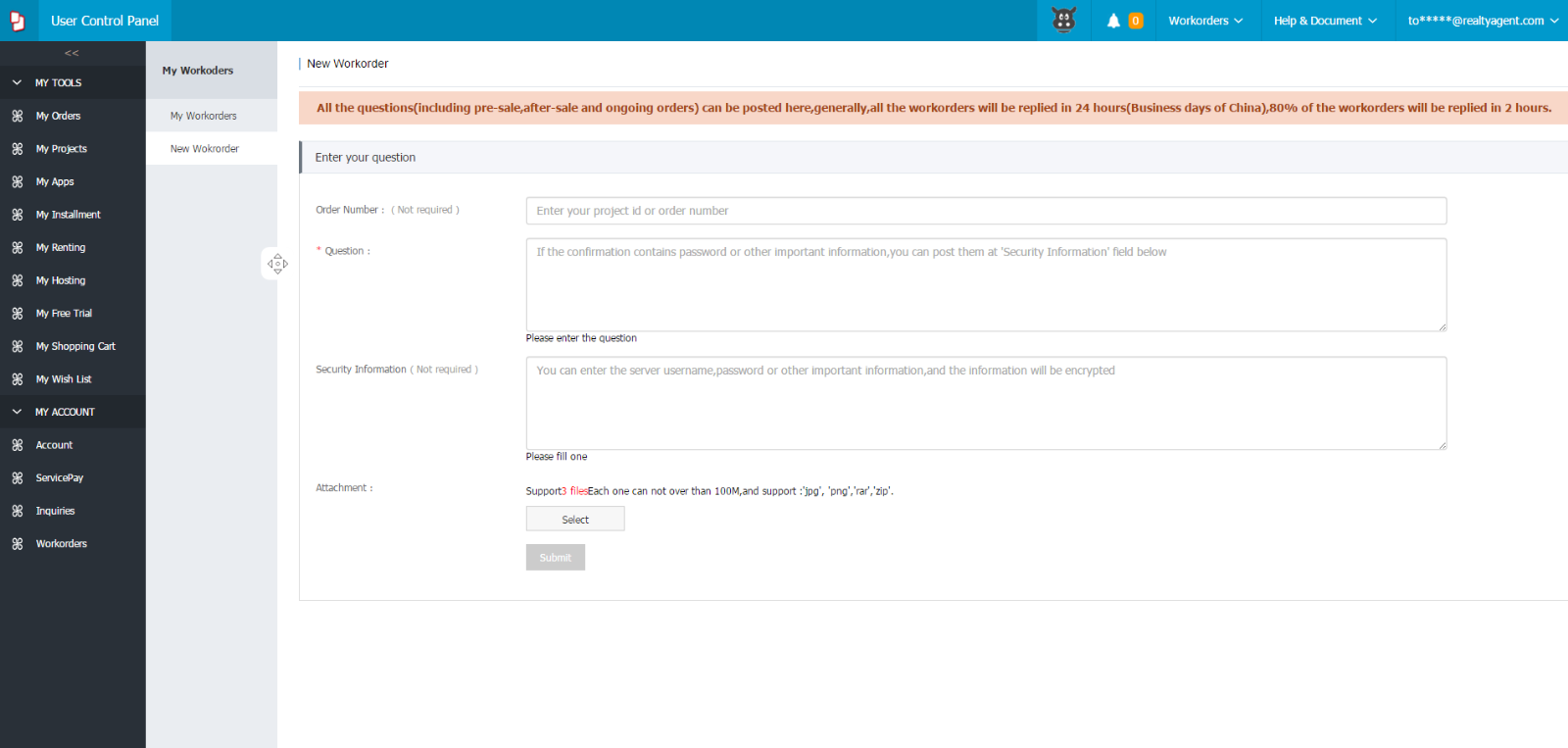 (4.) Documents, videos, multiple images can be packaged as an attachment to Rar or in the form of upload Zip.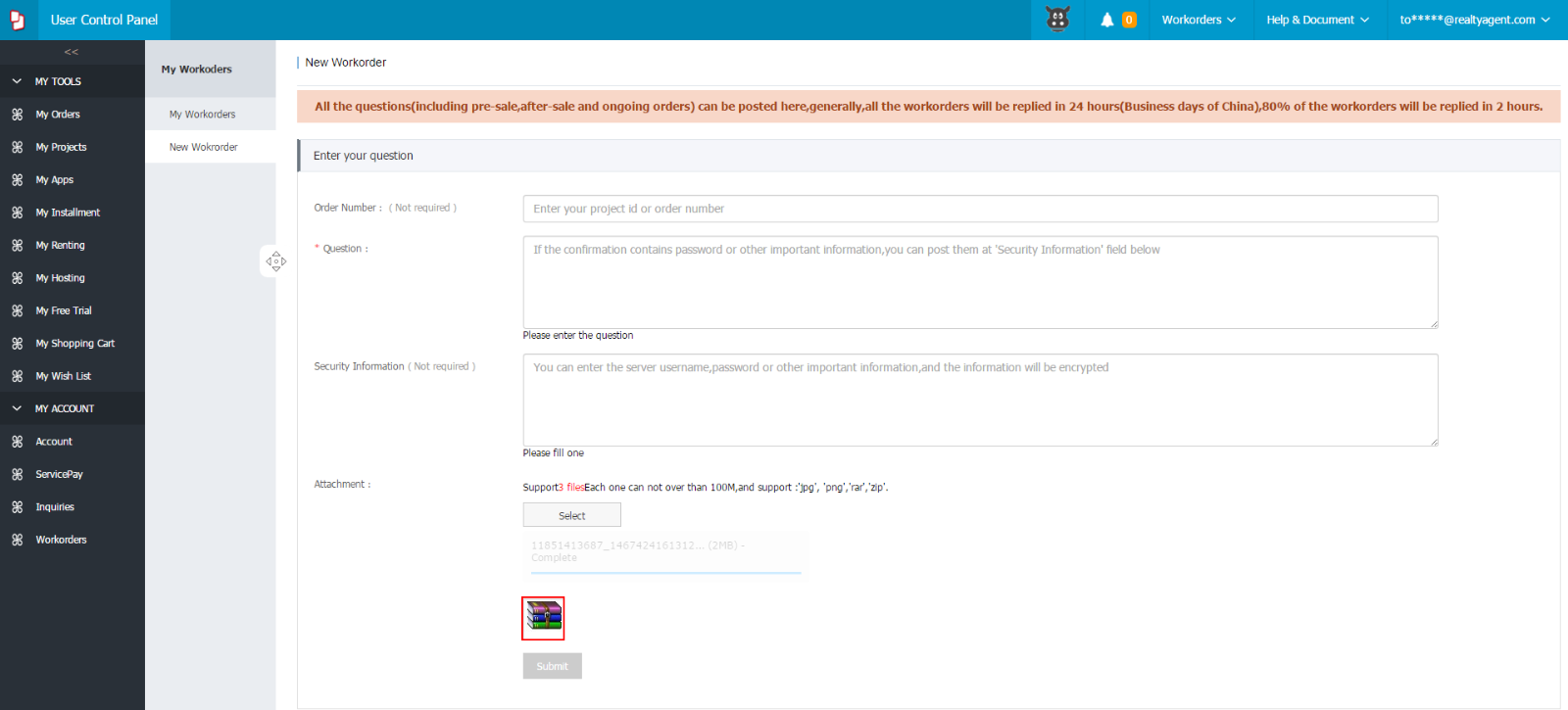 14. How to view and confirm your quotation?
(1.) Login to your ISV account.
Select the order you want to view and then select View 'Order details'.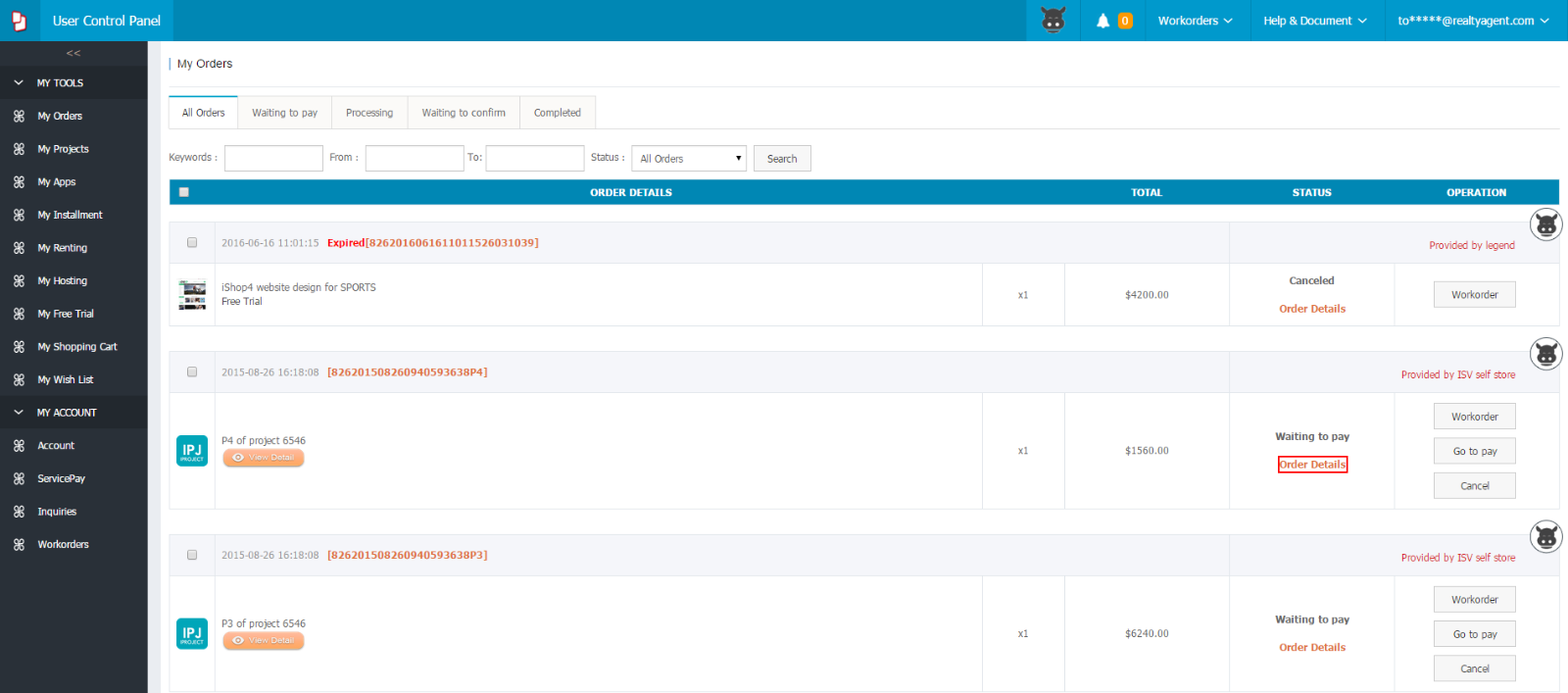 (2.) Enter the order details page, you will see multiple quotes assessed by different technical teams which based on design, programming, debugging. A complete project including four stages: P1, P2, P3, P4. Click "accept the offer" or "reject offer" to confirm the quote.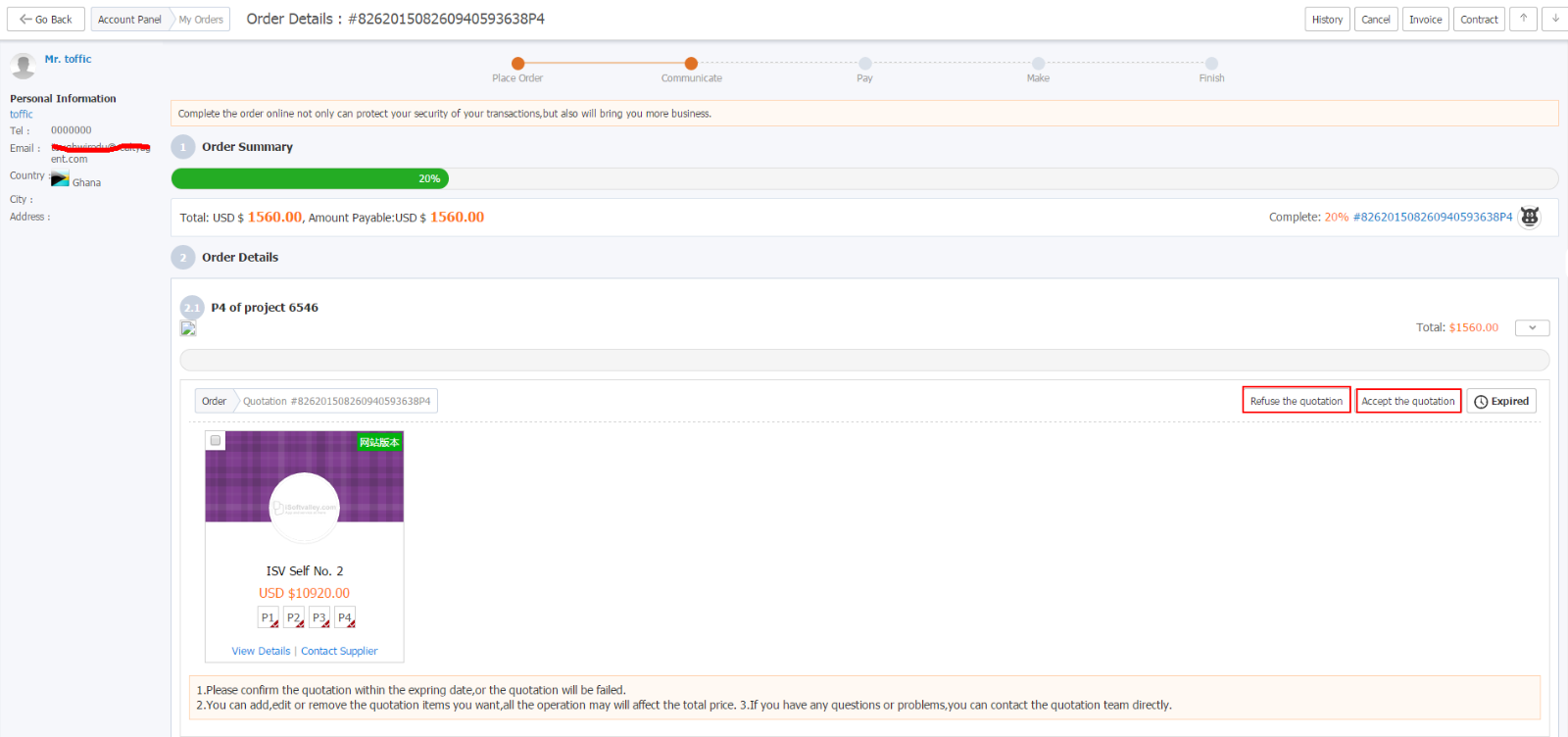 (3.) After you confirm your the offer, please click on the "Invoice" and " Contact " to download the standard ones.

(4.) Click on "Details " to o view the list of requirements of specific function and the time of the project expected to complete. Click on "Contact suppliers "can communicate with suppliers of specific questions.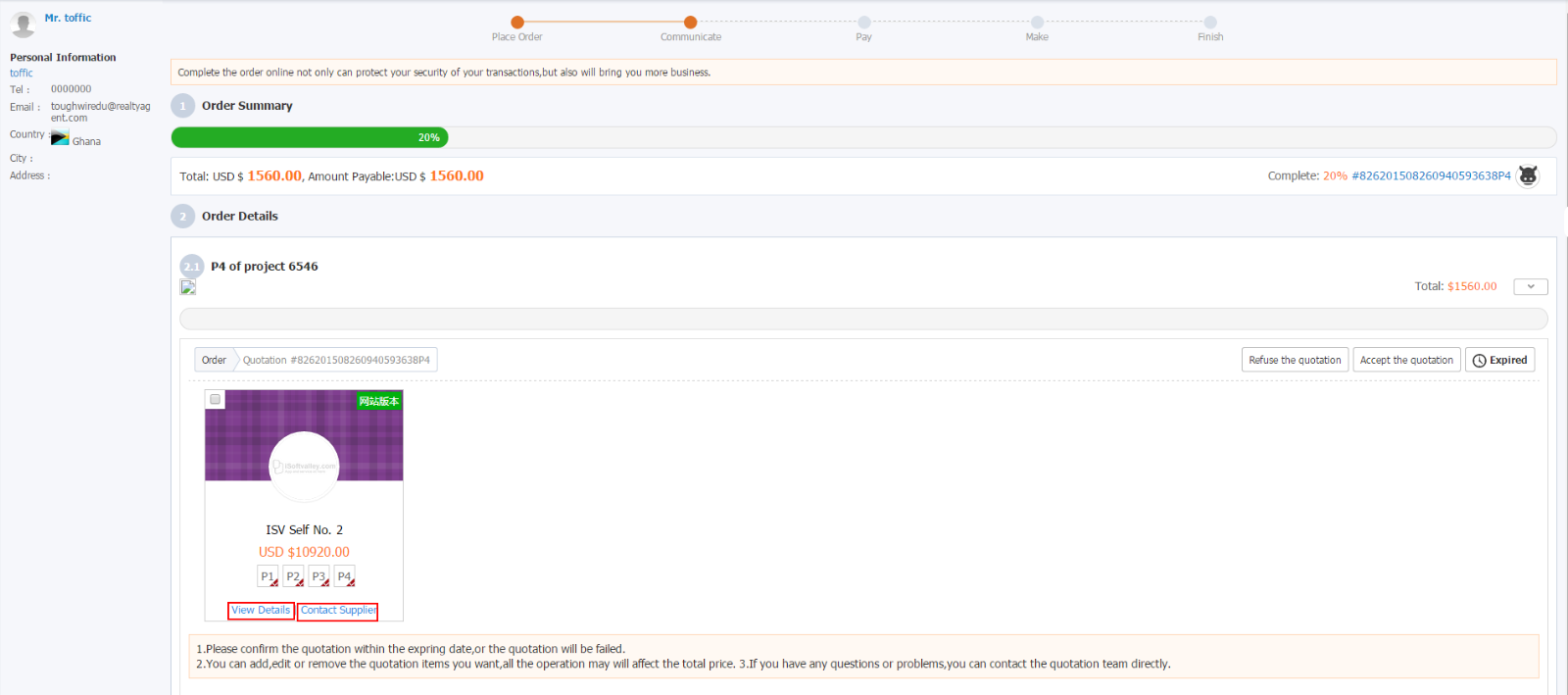 (4.) If you are not satisfied with the requirements, you can click "I still want to adjust it",modify your requirement then submit it.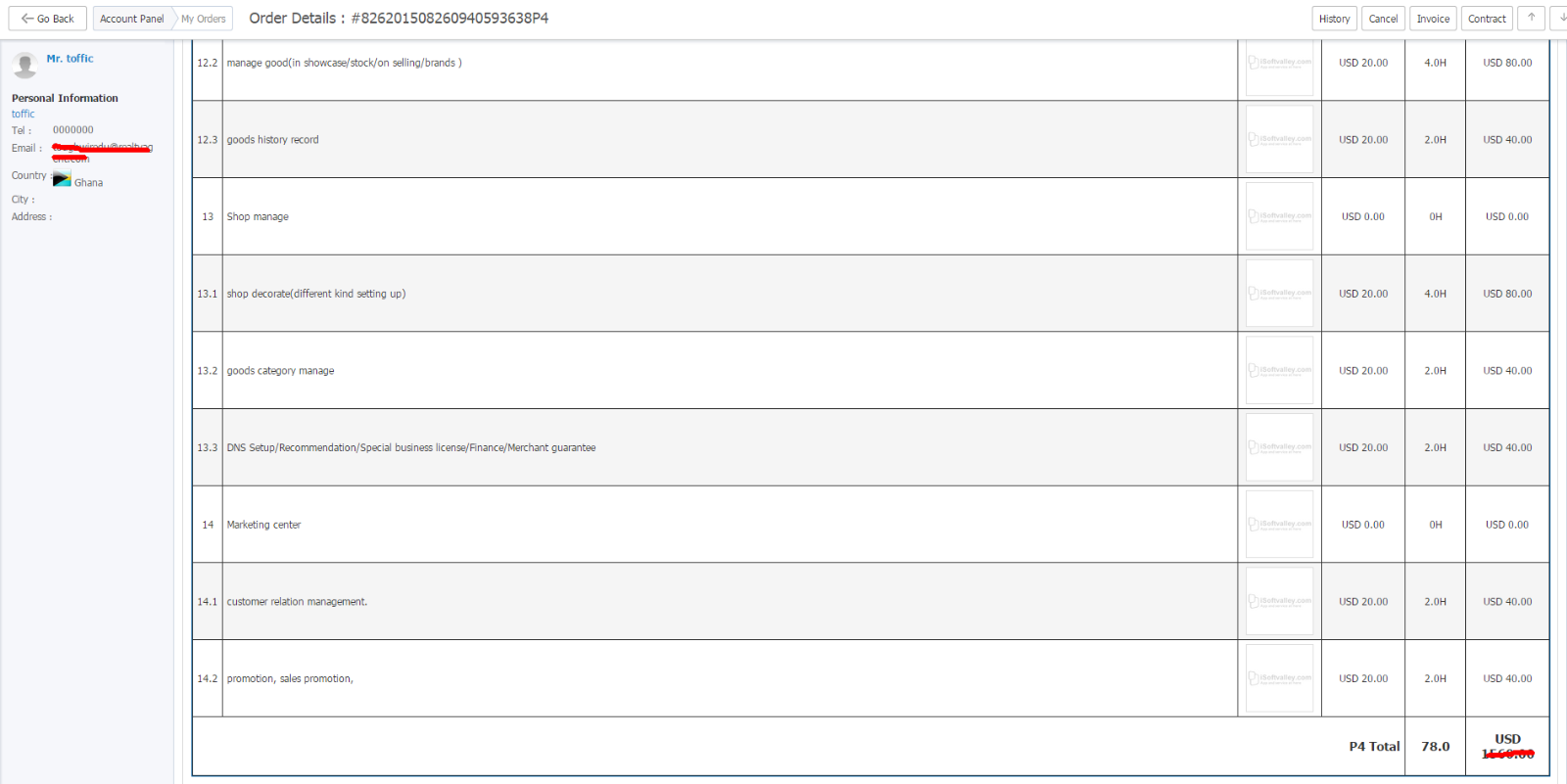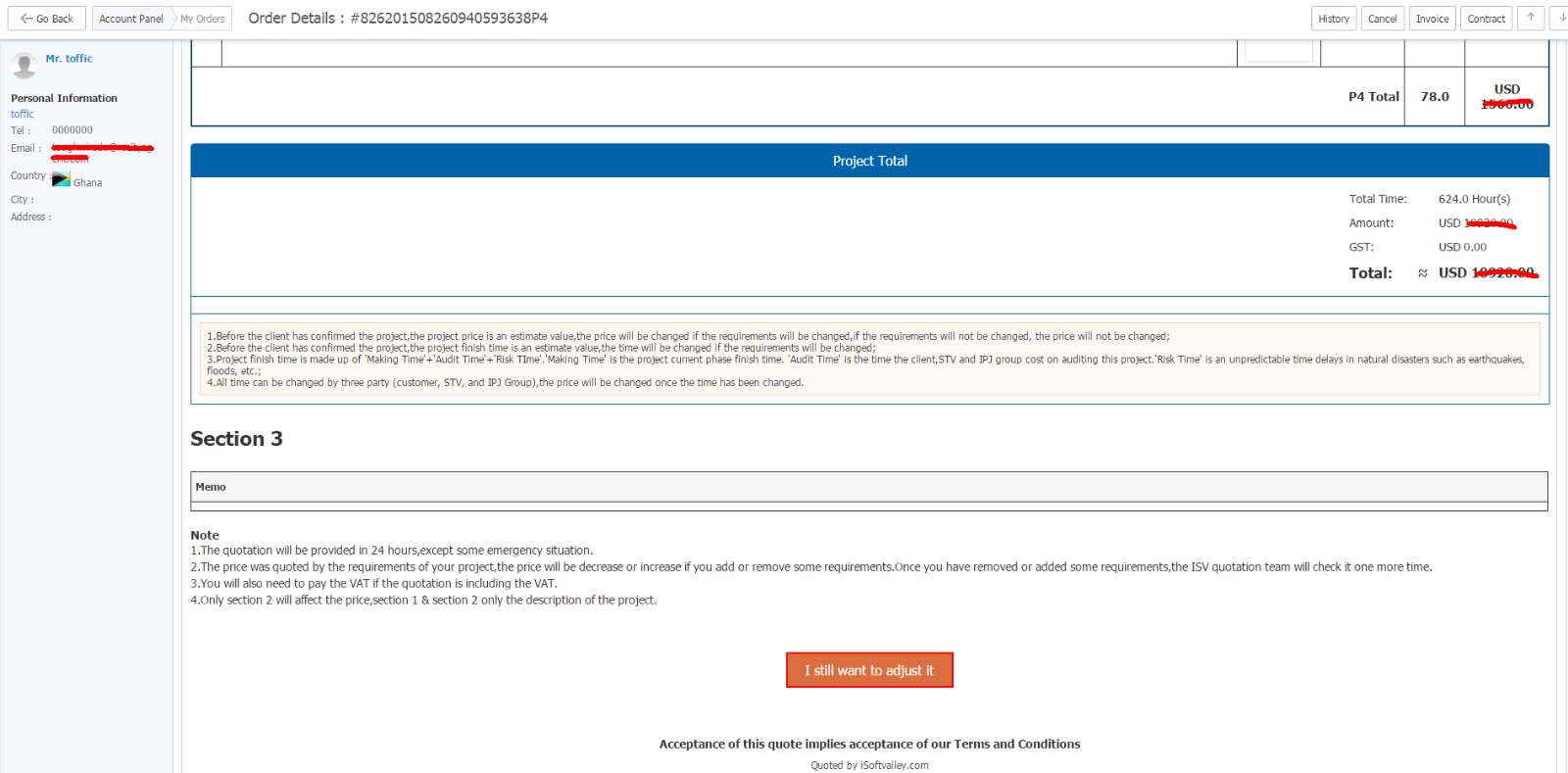 (5.) Click to add,remove or add attachment,submit your modified requirements.Our system will evaluate your requirements again and you will get new quote with estimated time and cost.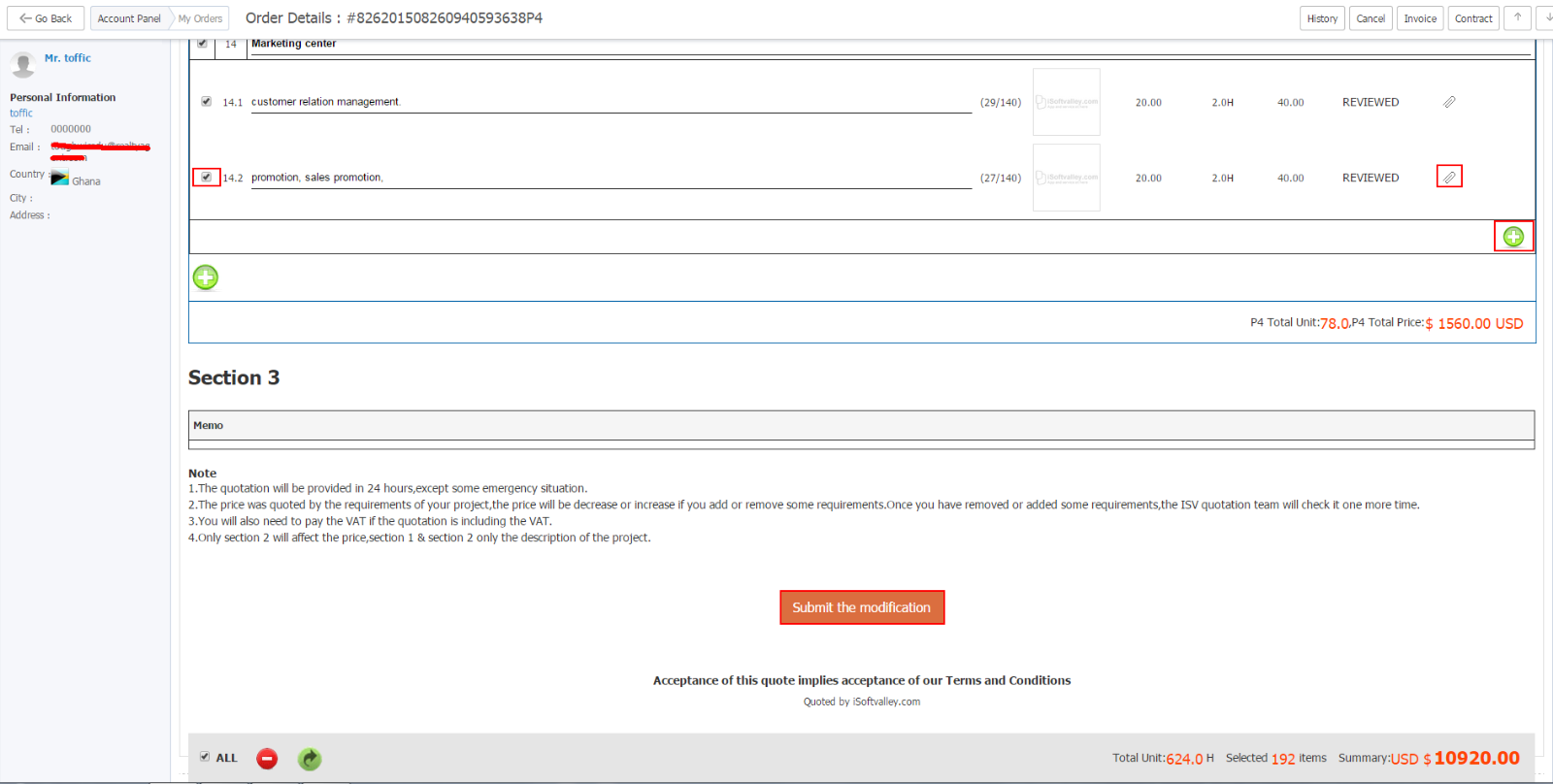 15. How to pay?
(1.) Choose a kind of payment.
(2.) Click the "company transfer " under the payment.

(3.) More payment you can click on "
Service Pay
" to pay.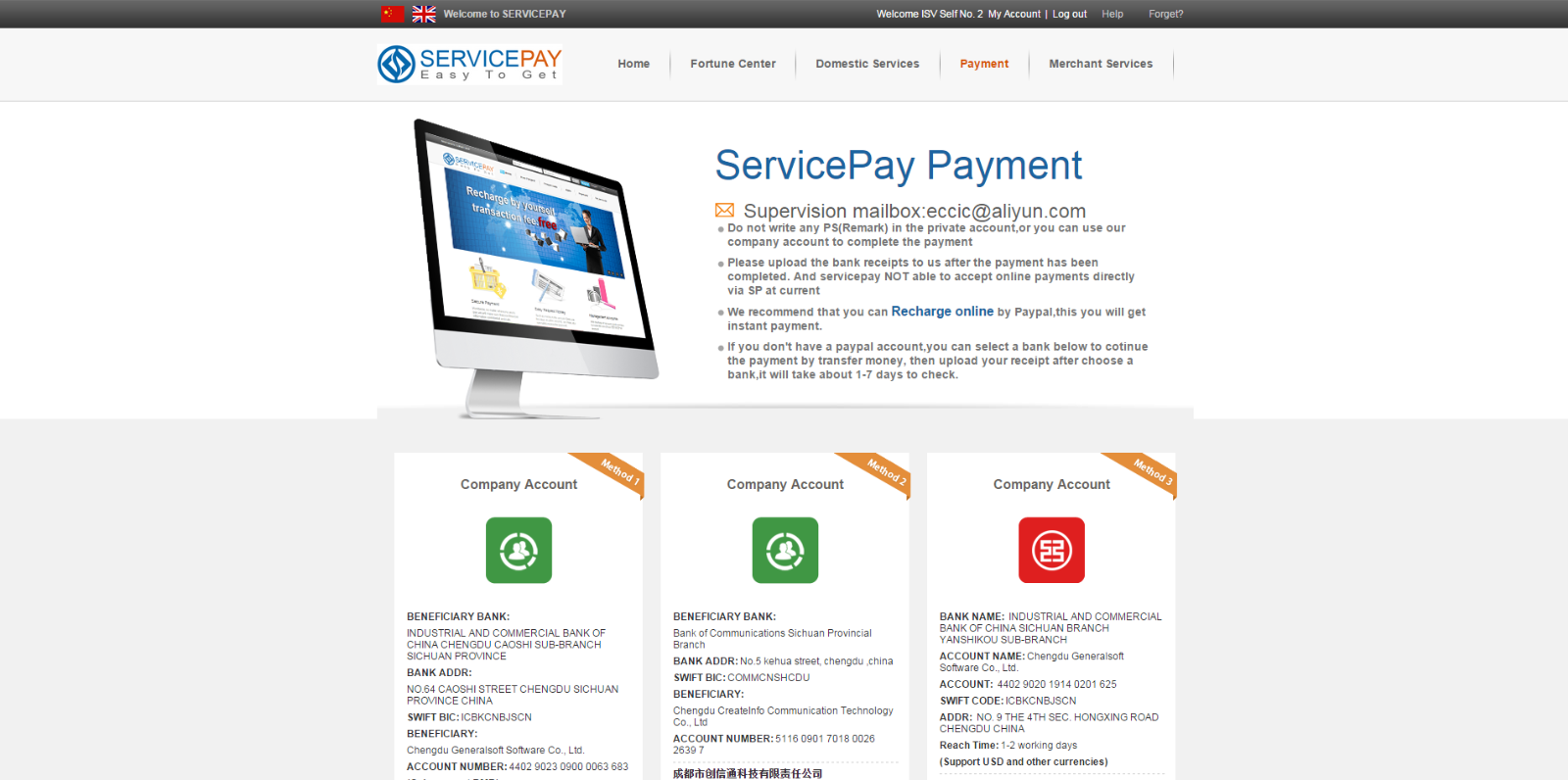 (4.) Upload your proof of payment to get our confirmation.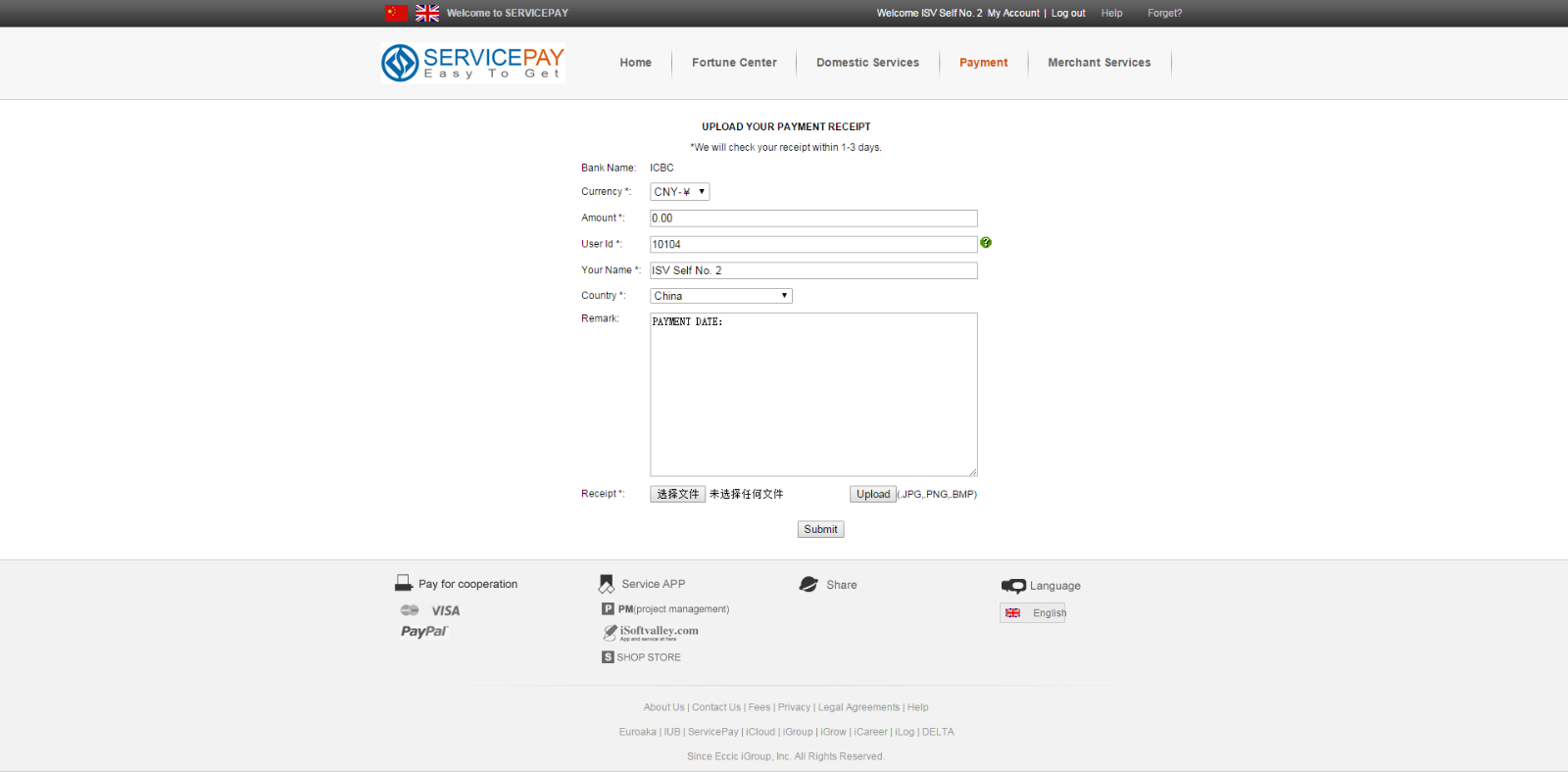 16. How to change the requirement?
(1.) Login ISV account, find the need to change the project, click to change.
(2.) view the number of changes in demand, click on the "details" to view the details of the change, click "add new requirement" to increase new requirement

(3.)View demand to change details, click on "+" to add a new demand or to delete"+" to cancel your demand.
(4.) View the quotes of changing demand and completion time, click on "verify pricing" or "rejected the demand" to complete the
identification of needs.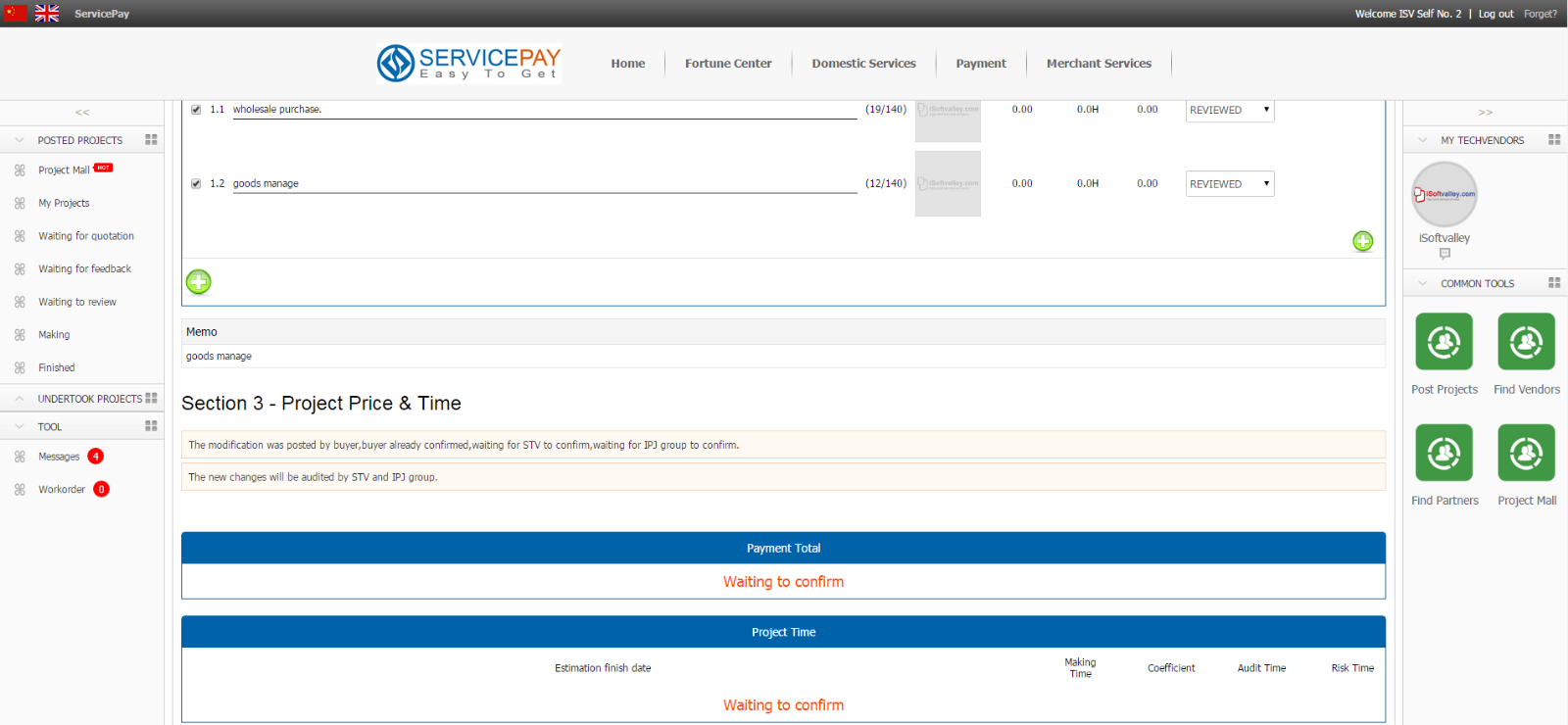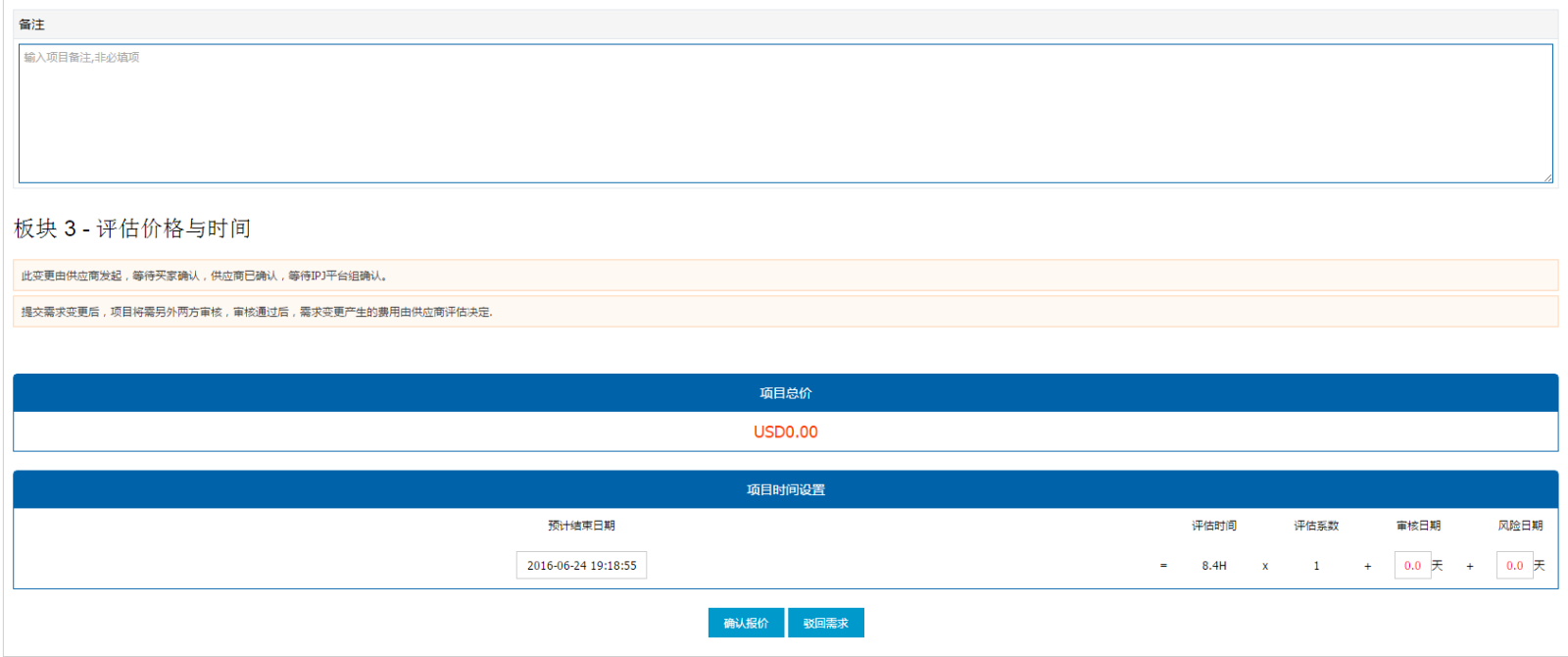 Note: our service will charge for change requirements,for this is our standard workflow and service. We will strickly check and finish each of your requirements. Change requirements is an option for your project which you can choose,usually about 80% change requirements charge from $10~$100.
17. How to check the acceptation?
(1.) The system supports project acceptation according to the four stages: P1, P2, P3, P4. Click on details of the project,after the requirement completed mark as
"
√
"
, evaluate the supplier and click "OK" to confirm the completion of the project.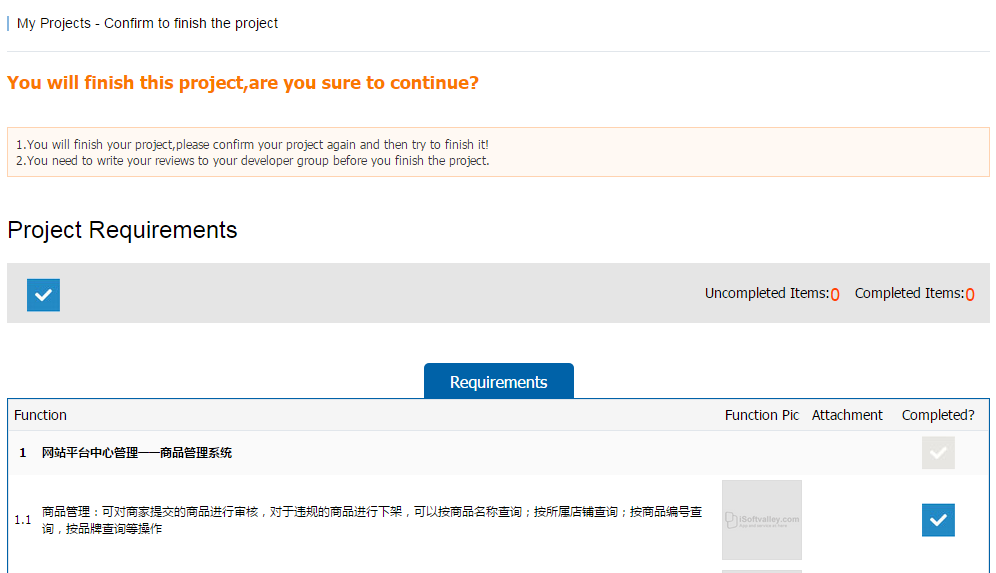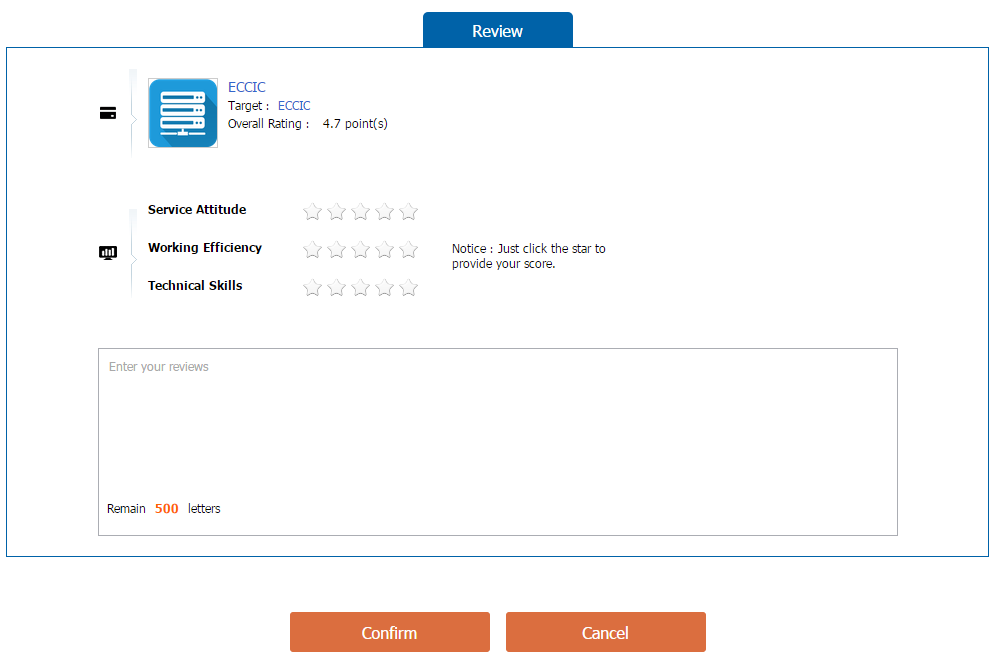 Note: All our project support confirm by stages,system will strickly

self-check
your project and conform each requirements, every modify requirements in halfway will be consider as change
requirements,
change
requirements need system to assessment and charge additional cost,usually change requirements charge from $10~$100 each time,
please check each of your
requirements more carefully.
For P3(programming) is highly relevance with p1,p2, so we will stickly check your original requirements before,so we do not accept modify work in in halfway. if you want to modify your project,please request for changing requirements after project finished.
18. Can I Choose Some Stages of the Customize Project?
In the isoftvalley.com, we will provide source code for all the customize project. So you can choose Some stage of the project, when that stage is finish, we will give you the source code of the stage. You can find any company to finish the rest part.
19. How Can You Guarantee a Satisfy Result?
(1) We provide a periodical design, we can make sure that all the functions would be work at different stage.
(2) After finish design in each stage, we will communicate with our clients, we will modified our product until they satisfied.
20. How Will You Provide a Technical Support?
(1) We will provide a three months free maintains after handled the project to clients.
(2) If still need maintains after three months, clients should pay a maintains fee.
21. Could Online Development Solve all the problems?
(1) We have a professional team who has abundant experiences .
(2) We have a mature platform and workorder system, which makes it more coinvent for out clients to communicate with technical team.
(3) Our design is periodical, we will handle the project to our clients after each stage is finished, waiting for client's confirm. At this period, clients could change their demands, we will offer the price for changing, finish the project on time and meet client's request.
(4) Our platform's security structure is at international leading position, platform would guarantee for the project's quality and deadline. User's data is stored on the platform, which would be safer. and the system would manage the process of the project, trace the person in charge, make the service more safe.
22. Could Workorder Solve the Communication Problem?
(1) Our platform has a mature workorder system, out client could check the states anytime with workorder system.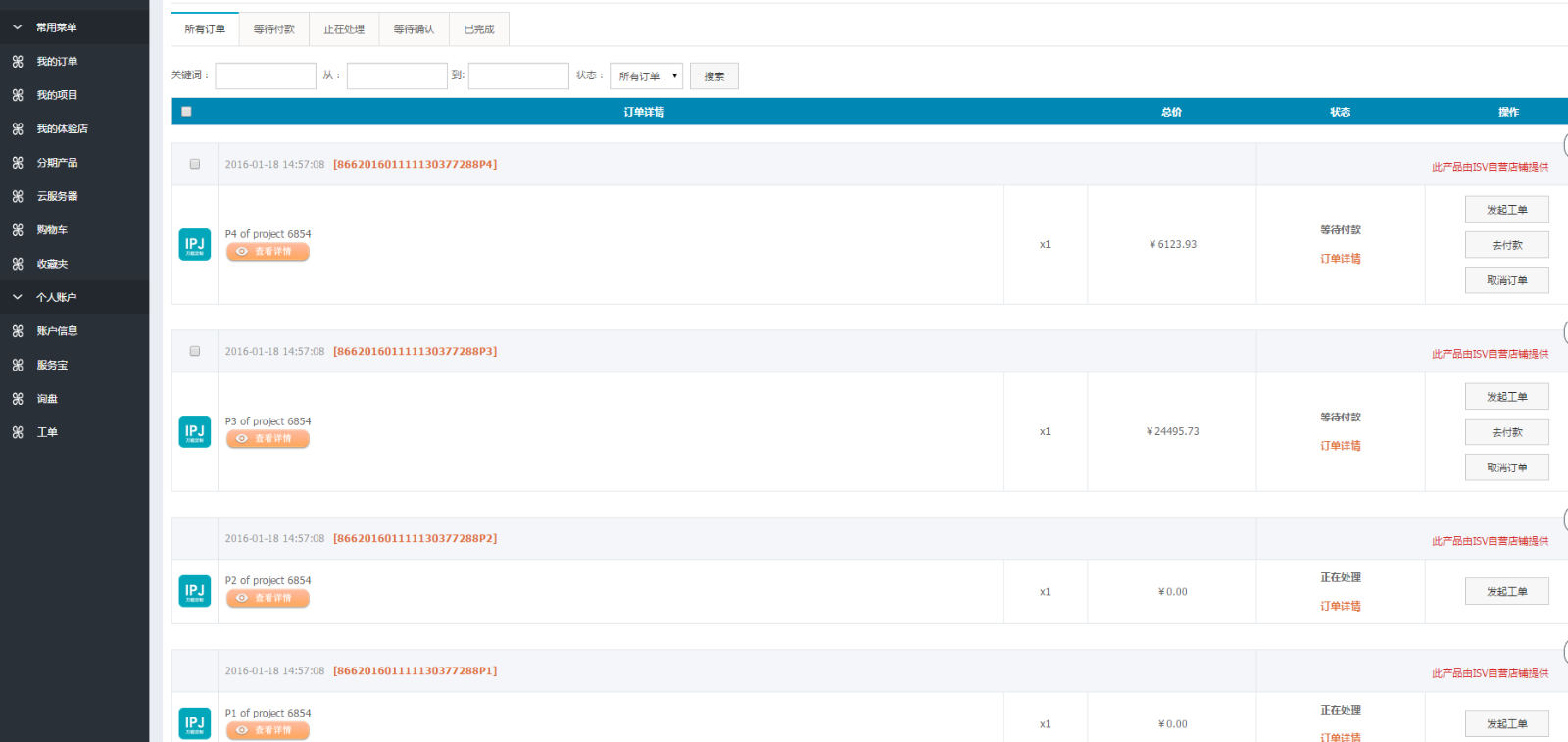 (2) Fill the workorder, add image appendix to submit the problem to the platform.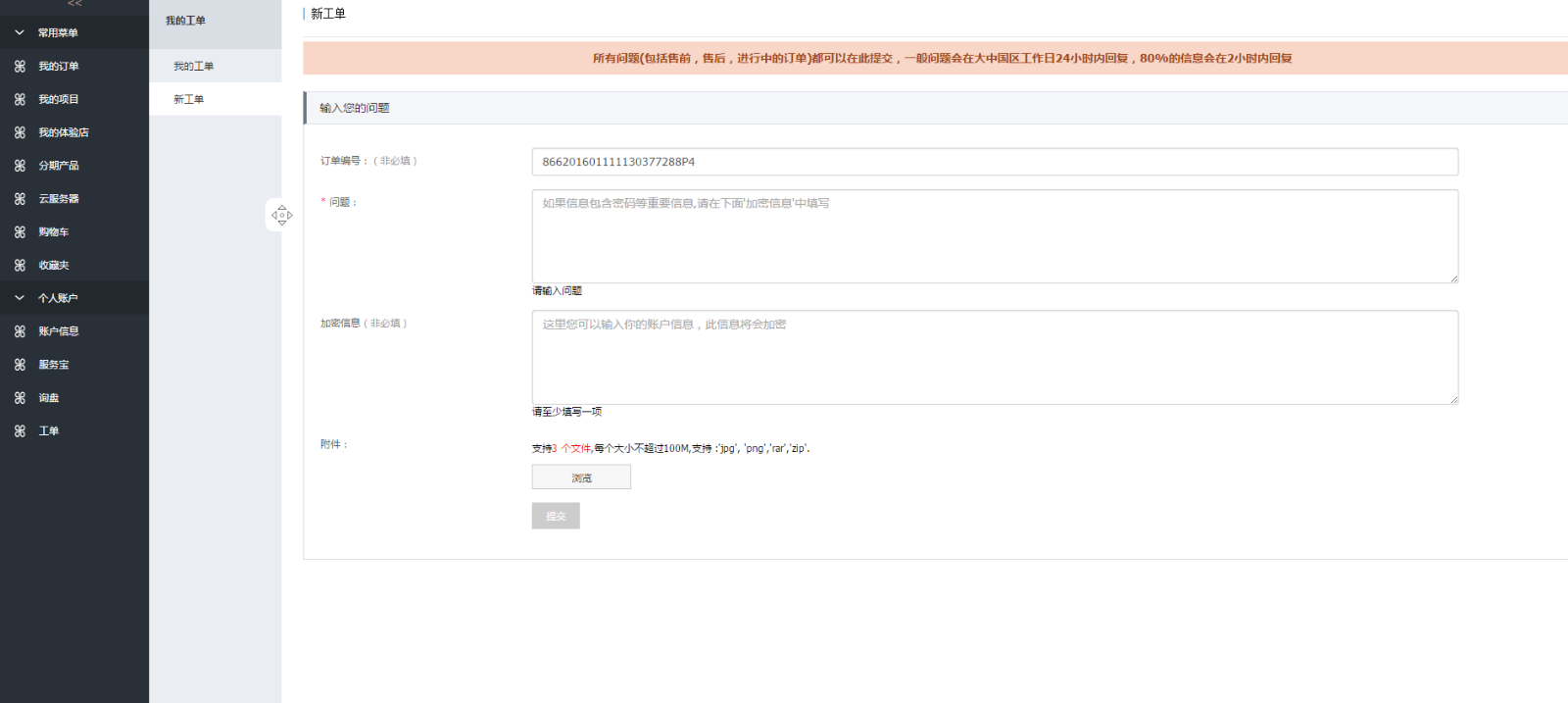 (3) You can send files like image, video etc. to the system with workorder. We will response in 24 hours, and let experts to solve the problem immediately, when we finished the problem, we will tell client to check it. The pictures followed is an example.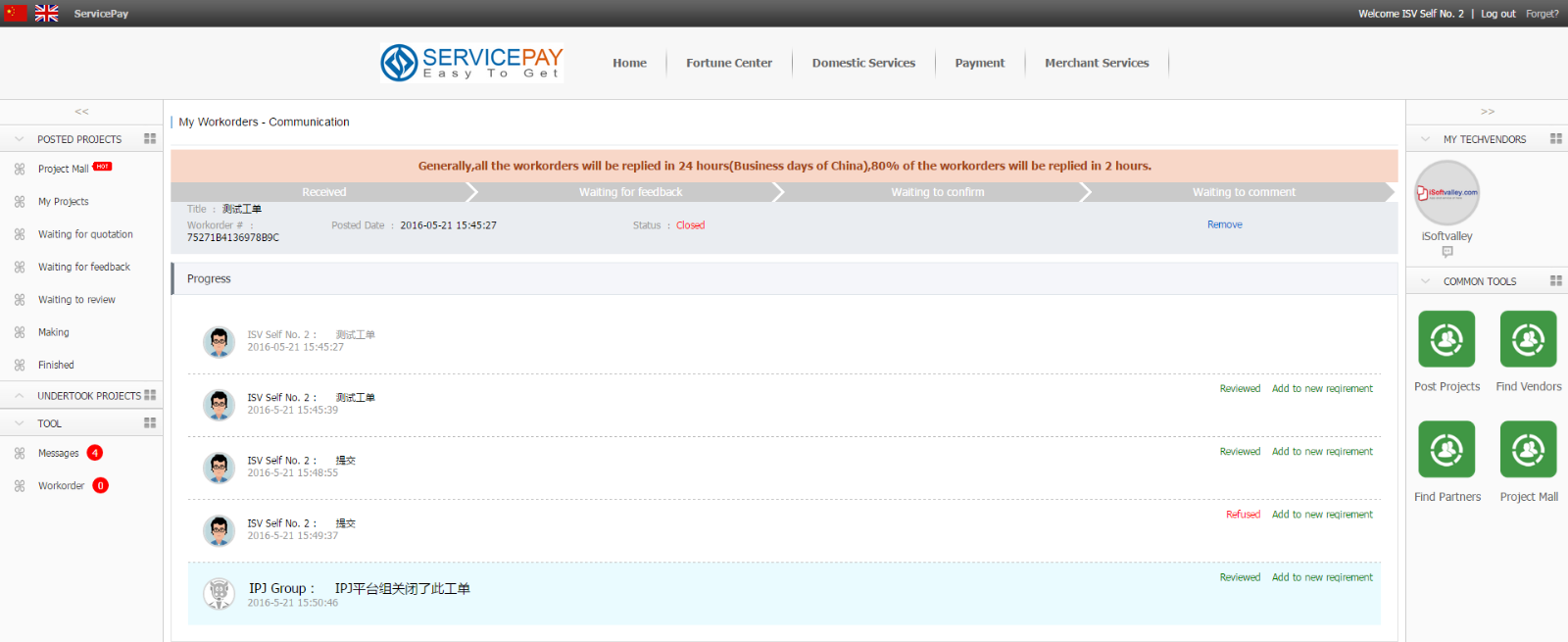 23. Can I Download My Data Anytime?
(1) Login your account
(2) Enter your order to check the progress, news and workorders of the project.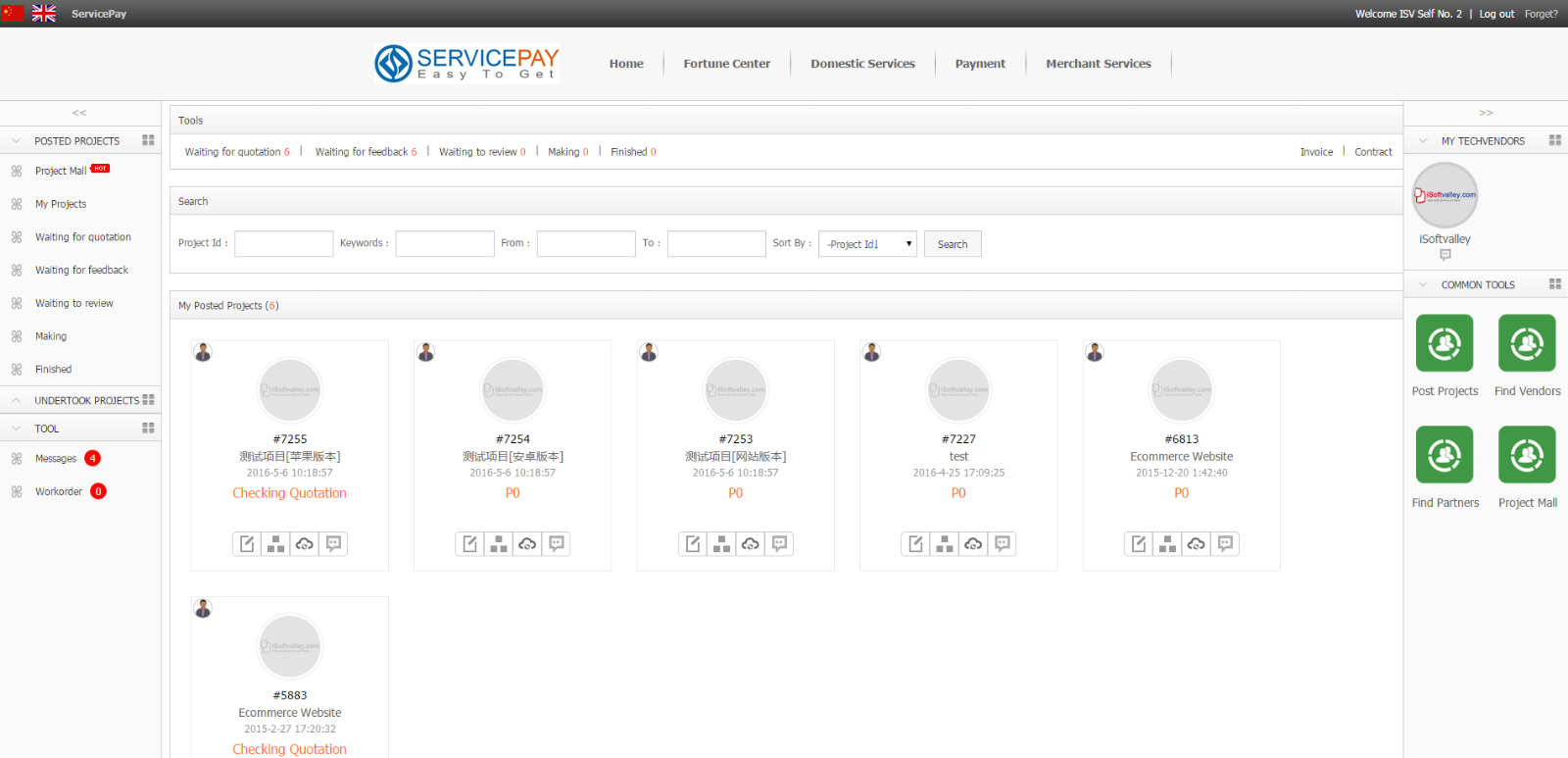 24. Could I Got the Software I Want without Technical Knowledge?
(1) Login your account
(2) select Customize and fill your request.
(3) When system get your order, our expert will analysis your requirement, you can contact our expert by workorder. We then analysis is done, there would be a detail list, estimate time and price.
(4) Login the system to confirm your request. If you want to change your requirements, our system will quote for you again, you could pay by stage,and we will arrange the development for you.
(5) Each stage of the project is done, system will send you the product of that stage, after your confirmation, we will continue with the next stage.
(6) After finish all of the project, you can login the system and download the manual.
25. Is Your Service Steady?
As a professional online development service center, we will offer you a sustainable after sales service. If you meet any problem, you could contact our expert online.
26. Can You Accept Installment?
Our system can accept installment, which can relive your financial stress. Installment has the following two kinds:
(1) As for the products, please check the payment method in the product description page. Click "installment" to choose.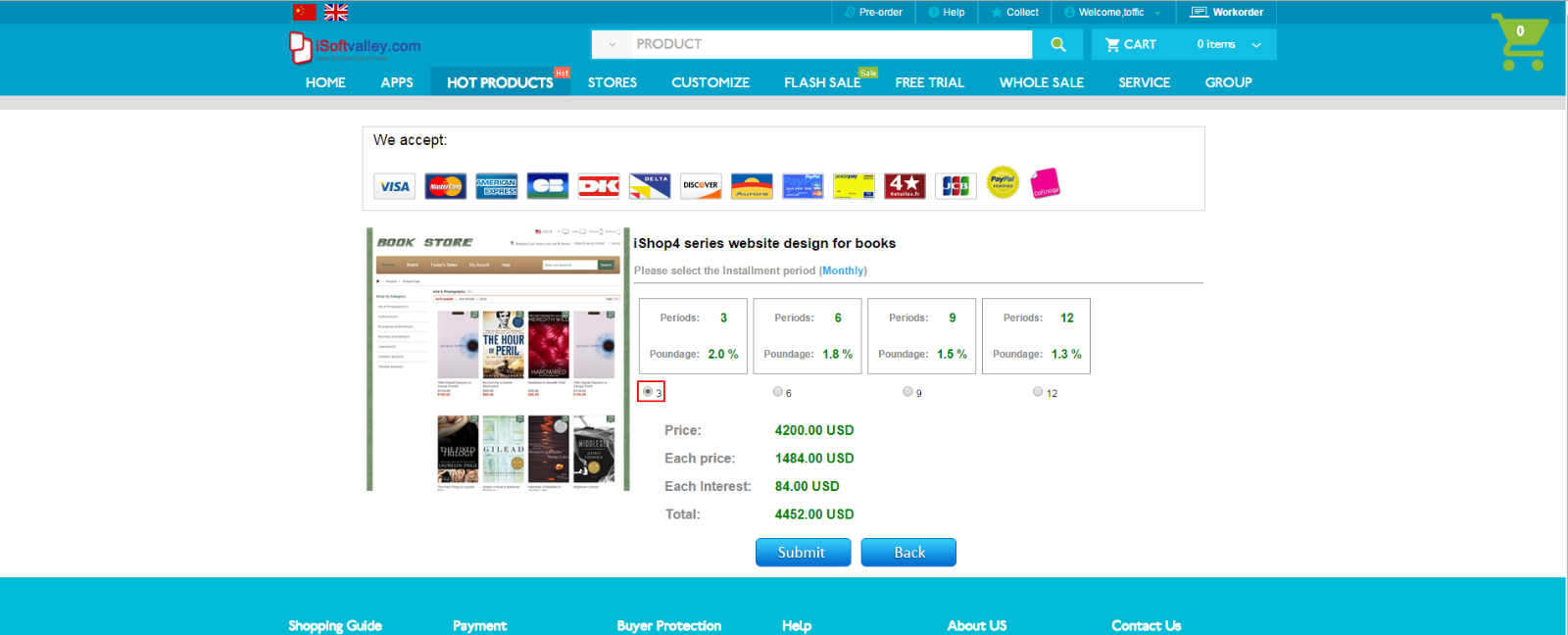 (2) As for the customize project, you can pay by the stage of the project. There will be different order for different stage, click "go to pay" to get into the payment page.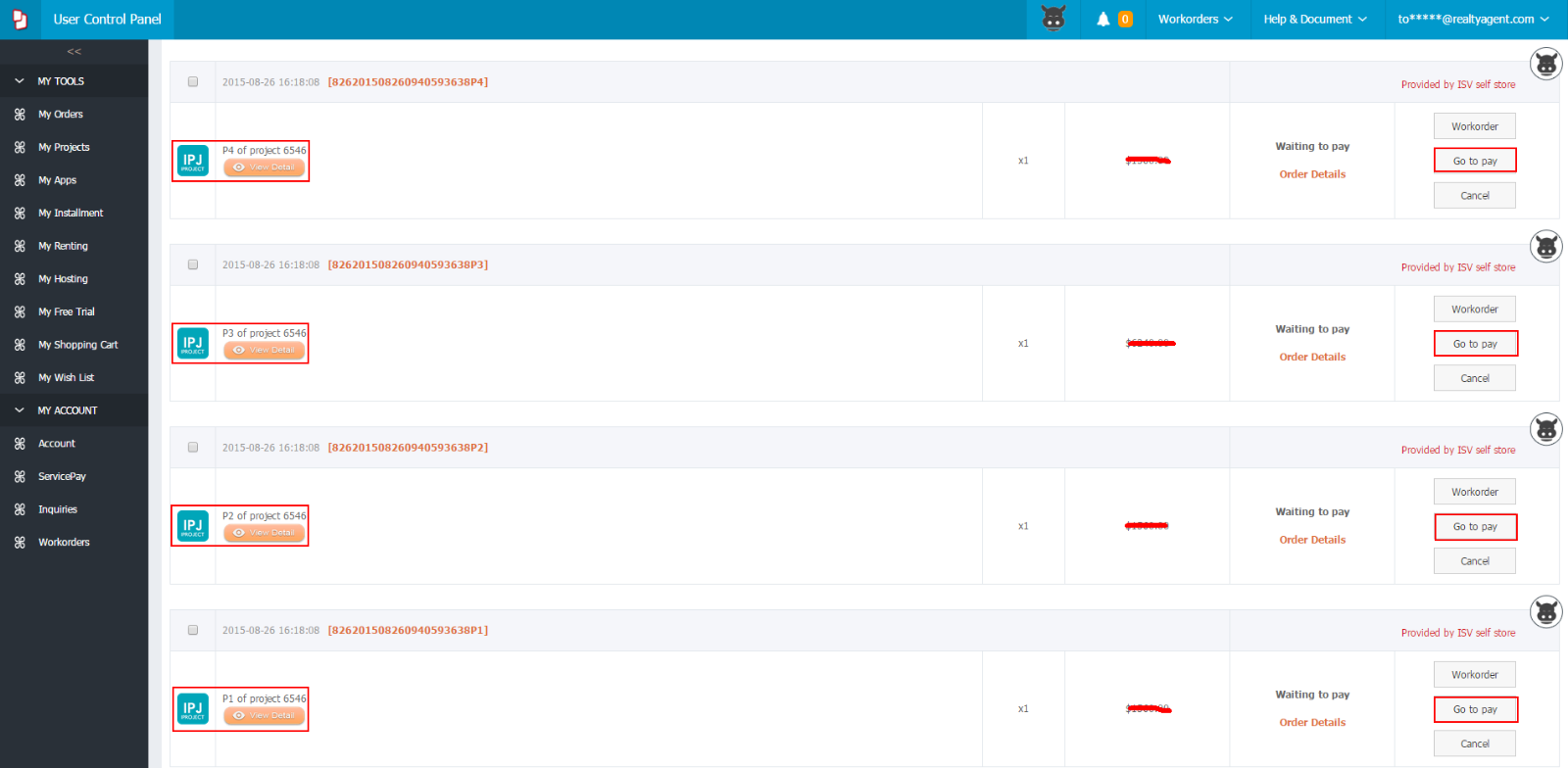 27. Is It Easy for Upgrade and Extend?
System support upgrade and extend service for product and customize software.
(1) As for the product, such as ishop4, we will provide a sustainable upgrade and extension, you can get the service free after you buy. We can also customize the upgrade and extension by your request after evaluate.
28. What Can I Get Beside the Project.
As a professional online technology provider and e-commerce solution expert, we will also give you pertinent advises for marketing, cooperation with you in the project.
29. Why Choose Isoftvalley.com
We are a professional online software developer and service provider with 12 years experience, wo served more than 10,000 clients from more than 200 counties, there are many famous enterprise in them.
We have designer and developer with years of experience.
We have lots of products for free trail, flexible payment method.
We have a unique software analysis system to understand your request.
We have complete software development and management system, make sure your project's progress and quality.
We provide you with instant online communication system, sustainable after sale technology support, professional marketing advise.
30. We are SME, Can You Provide Service for Us?
We are a company who provide service including website, app, software, and solution for SME.
31. How Will You Guarantee Your Software's Quality?
As a Software developer and service provider with full experience, we have a comprehensive requirement analysis system and project management system, to make sure of your project's quality.
At the beginning, we will analysis your requirement to clarify your request and we accept requirement adjustment and extension.
In the progress, we will confirm with you in every stage of the project. We will continue after you confirm.
In the last part, we will let professional people to test the software for you, to guarantee the quality of the software.
After the project is finish, we will offer sustainable after sale service.
In the whole progress, you would communicate with out expert and adjust the project anytime.
32. Is it Safe to Store Data on the Platform?
Comparing with traditional communicate tools such us Email, Skype, and QQ, platform service is more steady and safe, and the progress and charging people of the project can be traced anytime, system will assurance for the project, so you don't need to worried about unreliable freelancer to stop in the middle of the project.
33. How to know the progress of project?
(1.) Login to your ISV account.
(2.) View the progress of the project.

34. how to check the order (project) process?
35. Do you support refund?
Because our service and products are virtual products,our time cost and human resource cost once investment in can not be retrieve,so we have no refund item.
36. Why project modification in midway always take a lont time?
Every day we have so many project need to develop,and the modification work arrange by our technology suppliers themselves.And usally it will take about 7 to 30 days for modification work. So please strictly treat your project acceptance.During our free maintenance period(About 3 months) you can enjoy modification service.After that you can choose pay for modification or our
iCar
plan.
37.Why the price in quotation is a approximate price?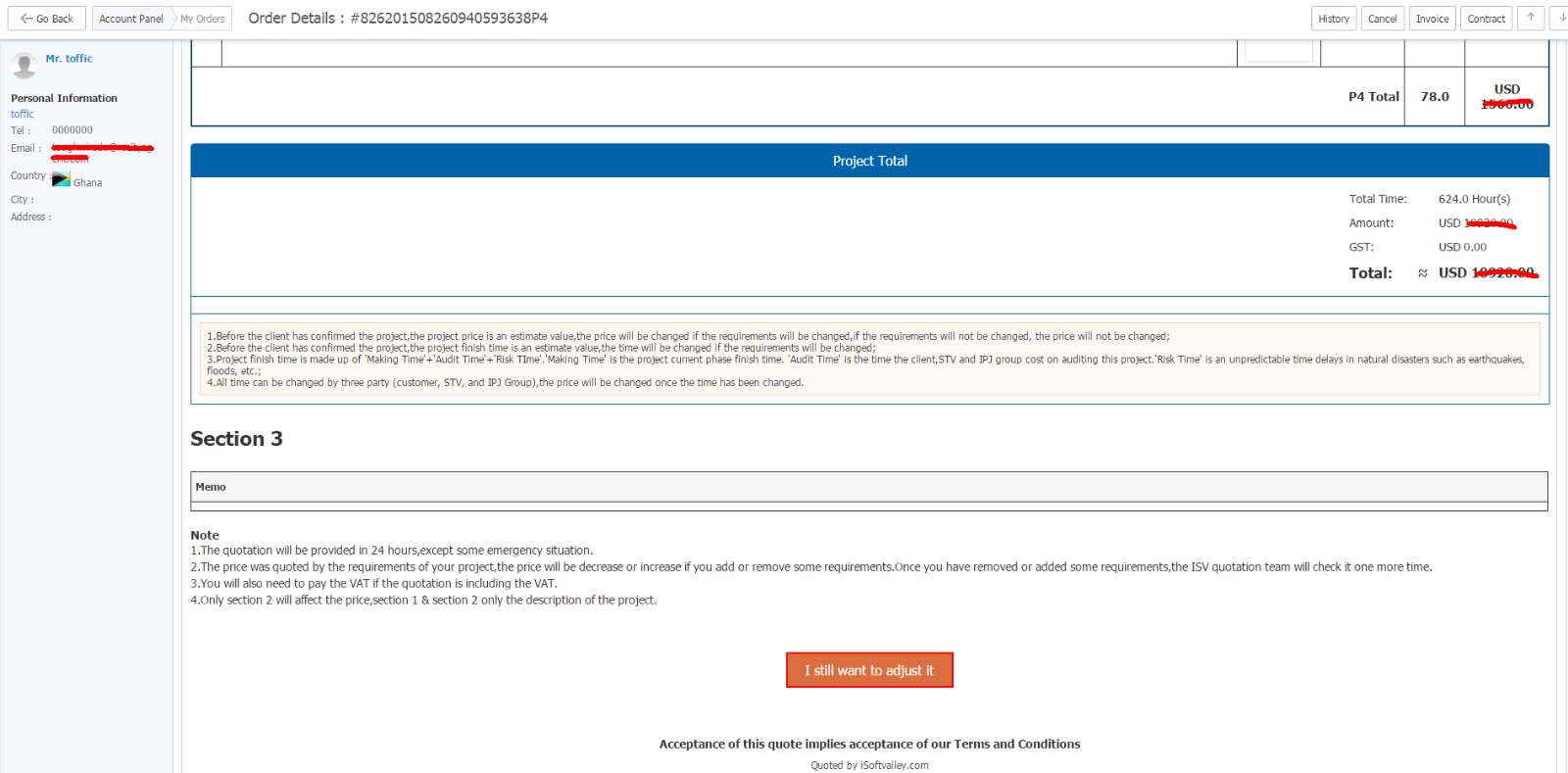 Our quotation is based on your requirements,so the more accuracy your requirements is the more precise our quotation will be. And our project is developed in 4 phases P1,P2,P3,P4. After the previous phase finished we will Re-evaluation the next phase based on previous phase final requirements,if you requirements still the same price will be the same.
| | | |
| --- | --- | --- |
| IPJ | View detial | Apply for expedited |
| | | |